Photo Credit: Toriano Porter/PrepsKC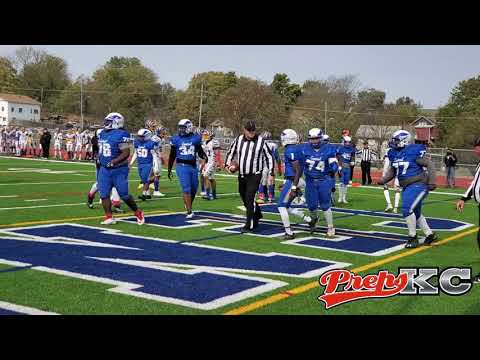 It's not as if Lincoln Prep slept walked through the first two quarters of its Interscholastic League matchup against host Kansas City Central on Saturday.
Using a retooled lineup, the Blue Tigers stumbled out of the gate, going scoreless until the 5-minute mark of the second quarter.
Central took advantage, too. The Blue Eagles went toe-to-toe with the defending league champions for almost a half. Trailing 14-0 late in the second, Central cut the deficit to six points with a little more than one-minute remaining before halftime.
Momentum was seemingly on the home team's side. And then the unthinkable happened.
A Lincoln receiver slipped by a Central defender to snag a 72-yard touchdown pass with 20 seconds left before the break. From there, Lincoln cruised, using an explosive 24-point third quarter to bury its league brethren in a 45-8 win.
The Blue Tigers improved to 5-2 overall on the season and 2-0 in league play. Central fell to 2-6 overall and 1-3 in the IL.
"When you're playing different guys at different positions, you're going to always start off sluggish," Lincoln Prep head coach William Lowe said. "You get a couple of big plays… then momentum takes over."
The noon kickoff was a change for the Blue Tigers, who have played most of their games under the lights this season.
Noticeably absent from the lineup were several Lincoln starters, including quarterback Howard Brown and linebacker Jermaine Hamilton-Jordan, both Division I recruits.
Lowe used the game to get younger players valuable minutes of varsity action.
"What a waste of two good quarters of football," Central head coach DJ Pittel said. "We ran the ball well the first half. Everything was clicking. And then we come out in the second half, and we just self-destructed."
Ani Atluri was one of three queartebacks Lincoln used in Brown's place. He connected on touchdown passes of 9, 72, and 64 yards to Darryl Williams, EJ Betts, and DJ Amrine respectively.
Williams was first, putting Lincoln Prep on the board when he caught a short slant pass from Atluri for a score late in the second quarter.
A few plays later, Lincoln's Aiden Smith scooped up a loose ball and returned it 70 yards for a defensive touchdown.
Central didn't blink.
Quarterback Walter Taylor IV answered with a short touchdown run of his own to cut the lead to 14-6 with a little more than one-minute remaining before halftime. A successful extra-point pass gave the Blue Eagles' faithful hope.
Any hopes of an upset faded with the 72-yard bomb from Alturi to Betts just before intermission. The tally changed the trajectory of the game.
"That was a huge play," Pittel said.
Amrine's catch-and-run score from 64 yards kick-started the Blue Tigers' third-quarter onslaught. Jayden Sudduth's tough 20-yard scoring run helped push Lincoln's lead to 35-8 halfway through the third quarter.
Marcus Bass followed with a rushing score from 21 yards out to help extend the lead to 42-8.
Sam North, who was perfect on the day, converted all six extra point attempts and capped scoring with a 23-yard field goal in the fourth.
"We started slow, but that's a credit to (Central)," Lowe said. "It was good for us to come out, get hit and not just think, 'oh, it's an IL game, we're going to score everytime we touch the ball.'
"It was good for us to experience that."