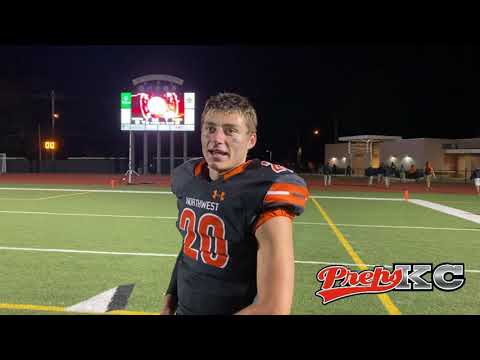 There are a lot of words you could use to describe Ty Black, but the first that comes to mind is: competitor.
Black was going to do anything he could on Friday night to make sure his final attempt against Gardner-Edgerton wasn't going to result in another defeat.
With 11:17 left in the game, Black gave Shawnee Mission Northwest a 38-35 lead with a 10-yard keeper. It would be the final score of the game thanks to a huge stand by the Cougar defense on the ensuing Gardner-Edgerton drive.
The Trailblazers kept the ball on the ground for much of its final possession as it tried to score without giving Black enough time to steal the game. Facing a huge 4th and 6, Asher Weiner found Tyler Butash wide open for 30 yards, giving the Trailblazers 1st and goal at the five.
Gardner-Edgerton would get the ball down to the two-yard line, but couldn't punch it in, and was flagged for a false start when only needing a yard to take the lead. On third down, Butash was stuffed on an end around and Weiner's fourth down pass fell incomplete.
Black got the ball back, picked up a first down and was able to run out the clock for the first win against Gardner-Edgerton of his career.
The Cougars and Trailblazers went back and forth the entire game as Shawnee Mission Northwest jumped out to a quick 7-0 lead less than 30 seconds into the game when Black hit Jack Meylan for 35 yards.
Gardner-Edgerton answered when DaVonte Pritchard scored from four yards out. The Trailblazers would get the ball back immediately as Black was picked off by Conner Elder, which set up a Carter Dewey score – his first of two on the night.
Playing from behind for the first time, Black drove the Cougars down the field with Justin Mitchell punching it in from two yards out.
After a Gardner-Edgerton fumble and a quick three and out from Shawnee Mission Northwest, Butash scored on the next drive from eight yards out to give the Trailblazers a 21-14 lead, but Black answered with a pass to Duke Henke, which was the first of two scores by Henke.
The Cougars closed the half with a field goal with less than two seconds remaining.
After halftime, it was Dewey again giving Gardner-Edgerton a 28-24 lead with Black to Henke with 6:47 left in the third to retake the lead.
Pritchard put Gardner-Edgerton back on top with 2:45 left in the third before Black's touchdown run to close out the scoring less than 3:30 later.