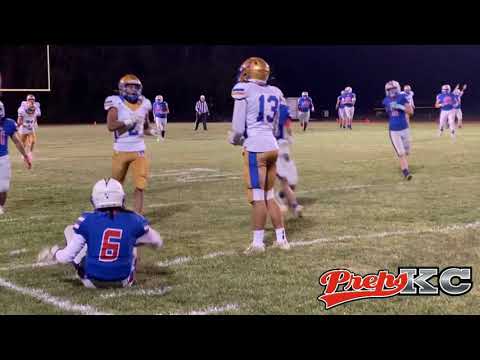 The Lexington Minutemen entered their game on Friday night in search of a statement win. With an unblemished 7-0 record, Lexington had beaten everyone on their schedule, they just hadn't played anyone with a record above .500.
That changed Friday when Lexington knocked off Lafayette County 36-25 in a matchup between two top 10 Class 2 schools. It was a win that also sets up a showdown next week against Richmond for the MRVC East title.
"That's the best opponent we've played so far, a big rival, so that's a good win for us," Lexington coach Kyle Cogan said.
Lexington used a bend but don't break approach defensively coupled with big plays to pull off the win.
In the first half it was the defense that starred for the Minutemen. On the opening drive of the game Lafayette County marched to the Lexington 18 before eventually being stuffed. They saw the Huskers drive into their territory again early in the second quarter before Freddy Hoskins stepped in front of a pass to force the only turnover of the game. The interception came just after Hoskin's opened up the scoring with a six-yard touchdown reception.
"That's our philosophy ever since I've been here," Cogan said of the defense. "Make people march, no big plays, make them march and they're going to screw up themselves or penalties or we will hold them when they get to the goal line… hopefully"
After taking a 16-3 lead into halftime, it was the offense's turn to shine.
"We have some really talented skill kids," Cogan said. "We are always trying to get the ball to them. Our line did a great job pass protecting and then run blocking in crucial situations."
The offense used a trio of big plays to score 22 third quarter points. The first of the three scores came on a 56-yard run by Evan Gosnell.
The next two scores were set up by the arm of Johnny Taylor. Taylor finished with two rushing touchdowns and a pair of passing touchdowns as well.
"Johnny is an awesome kid, Cogan said. "His leadership alone takes us to another level. When they scored, got the onside and scored again we huddled the team up. When he says take a deep breath and settle down, they listen and they believe him."
Even with the offensive firepower the Huskers, 6-2, did not go easily.
After falling behind 30-3 midway through the third quarter, Lafayette County rallied behind three rushing touchdowns from Austin Gard.
With 6:01 left in the game the Huskers had pulled within 11. Despite not recovering the onside Lafayette County stopped the Minutemen at midfield and took over with a chance to get the game back to one possession. The Lexington defense showed up again much as it had for the first three quarters and thwarted any additional comeback attempts.