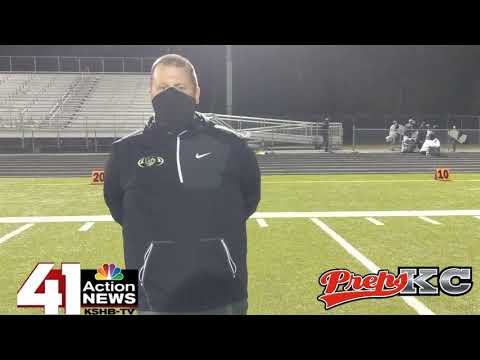 Complete Box Score and Play by Play
With only two touchdowns scored between Blue Valley and Blue Valley Southwest through three quarters, the rivals were jockeying for momentum on Friday night. The Tigers sought some breathing room. The Timberwolves hoped to retake the lead.
The Tigers continued to hold on to the same 14-12 lead they had at the half as the contest turned over to the final frame. At this point, it was clear that whoever found the end zone next had a solid chance to come away victorious. Someone had to make the next move.
That someone was Blue Valley. The Tigers found momentum in the form of a nine-point swing in the matter of 68 seconds in the opening minutes of the fourth quarter.
A Southwest intentional grounding that took place in its own end zone and a Michael Solomon 38-yard rushing touchdown sealed Blue Valley's eventual 23-12 victory over Southwest at Blue Valley High School.
he Tigers defensive front got just enough pressure on Timberwolves' quarterback Tanner Curry, who was called for intentional grounding while escaping pressure with 11:49 left in the fourth.
Then, Blue Valley's offense quickly capitalized on the safety ruling when Solomon recorded his second touchdown with 10:41 remaining.
"There was big momentum at that point," Tigers head coach Allen Terrell said. "We weren't playing for a safety, we just wanted the ball back and it just so happened that we got on (the quarterback). And then obviously pounding the ball in after that changed the momentum of the game."
Blue Valley senior linebacker Ian Olson agreed.
"It was all of them on that one," Olson said of the defensive line. "(They were) just going after it all game. They did great."
Solomon's crucial touchdown run was icing on the cake to his fine performance. The 5-foot-8 junior back rushed for 183 yards on 30 carries to go with his two scores.
"I got to give it to my O-line," Solomon said. "They went to work. From there, they created holes and good things happened."
Southwest got off to a strong start, as senior Tristen Everard found the end zone twice on both sides of the ball to provide the Timberwolves with a 12-0 lead after the first quarter. Everard executed a pick-6 with a 30-yard return and a nine-yard touchdown reception from Curry with 18 seconds left in the first frame.
However, the Tigers shut out the Timberwolves' offense the rest of the way, recording three sacks in the process.
"It was just awesome," Olson said of the team's defensive effort. "We came out a little slow, but after the first quarter we just kept hitting them and stopping them. It was great."
"They're so fun to coach. We've had more talented (defensive) groups," Terrell said. "They love to prepare and love the process. They're all very vocal with the game plan and all involved. It makes it so fun to coach when guys take ownership of the scheme, and that means they understand it, and it helps them play faster. That's what we saw tonight."
Junior quarterback Greyson Holbert registered the other touchdown for Blue Valley, a one-yard plunge just past the goal line to cut Southwest's lead to 12-7 midway through the second.
Solomon's first touchdown, a 3-yard run, gave the Tigers their first lead at 14-12 with 4:05 left before halftime. They, of course, did not relinquish the lead.
"We went to work today, and I feel like we just showed everybody what I feel like we're capable of," Solomon said. "We just need to get better from here."
The Tigers moved to 3-1 on the season after taking last week off. They'll battle St. James Academy (3-3) next week.
The Timberwolves (1-3) are scheduled for a rematch with Blue Valley North (2-2), who lost to previously winless Blue Valley West on Friday. The Mustangs beat Southwest in the season opener.