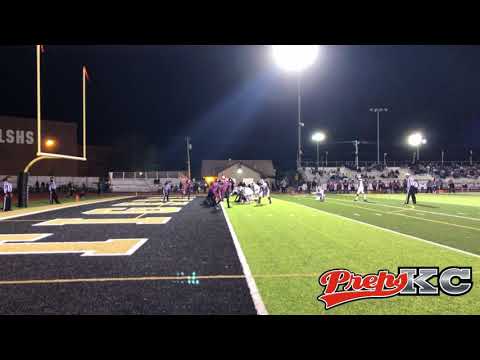 Park Hill South is making a habit of playing nail biting games coming down the stretch.
The Panthers (6-2) needed a fourth quarter comeback and a late defensive stand to defeat Lee's Summit 37-34.
The win helped clinch at least a share of the Suburban Red Conference championship in the process.
"I'm just really proud of our guys for fighting," Park Hill South coach Alan Wilmes said. "They (Lee's Summit) jump out 17-0. … we had to create some energy on the sideline (and we did just that)."
Lee's Summit scored early and often.
The first barrage came on Lee's Summit's first drive of the game as Landon Shepherd scored his first of three touchdowns with a 15-yard run.
After Park Hill South turned it over on its ensuing possession, giving the Lee's Summit offense good field position, the Tigers tacked on a 35-yard field goal, before Shepherd scored his second touchdown of the game with a 5-yard run up the gut to give the Tigers a 17-0.
Needing a spark, Wilmes turned to his special teams unit to get things going, and boy, did they deliver.
"We went for a punt fake," Wilmes said. "It was a big play for us. … it got us back in the game."
A few plays later, the Panthers offense found the end zone as Nathan Ricco found Mudia Rueben for a 65-yard touchdown.
Park Hill South wasn't done. Like Lee's Summit, the Panthers defense stepped up and forced a turnover deep inside Lee's Summit own territory.
Three plays later, Park Hill South cut the deficit to 17-13 as Ricco connected with Eric Avery for a 9-yard touchdown.
Ricco wasn't finished.
After forcing a 3-and-out, Ricco and the Panther offense were at it again. This time, it wasn't Ricco's arm that provided the offense, but his legs as he scrambled 46 yards to paydirt to the Panthers their first lead of the night.
Lee's Summit started the second half much like it did the first half — on fire.
The Tigers took the lead early in the third quarter as Tyler Lock threw a 9-yard touchdown to Shepherd.
After the Panthers tied the game at 34, the Park Hill South defense got the ball back to its offense.
Midway through the drive, the Tigers defense appeared to come up with a big defensive stop, but on fourth-and-10, Lee's Summit was hit with pass interference, extending Park Hill South's eventual game-winning drive.
"Our kids, they're still learning, we're trying to get better each week," Wilmes said. "Sometimes that's putting yourself in a situation where you've got to learn how to win."