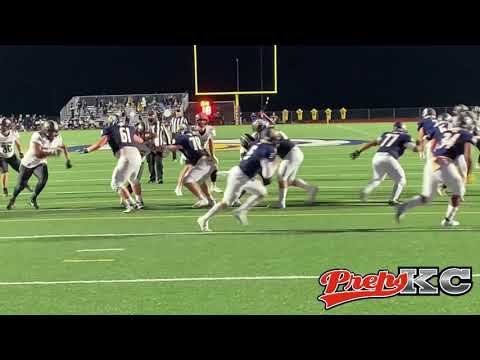 Complete Box Score and play by play
In a game that had a playoff atmosphere, Raymore-Peculiar held on for a 35-32 win over Liberty North.
The Eagles took the opening kickoff and moved the ball into Panthers' territory setting up a 32-yard field goal by Blake Craig.
The Panthers answered when Philip Fager took the handoff and went around the right side for a 9-yard touchdown.
The Eagles scored again before the first quarter ended, when Joe Kroenke delivered a 26-yard scoring strike to Davis Rockers that made the score 10-7.
Kroenke then completed a screen pass to Cayden Arzola, who broke a couple of tackles on the way to a 47-yard touchdown. After Craig's PAT the Eagles were up 17-7.
The Panthers changed the momentum when Fager scored on a 1 yard run late in the second quarter. Ray-Pec then scored on the first possession of the second half when Conrad Hawley found Will Orthel in the corner of the end zone for a 13-yard touchdown. The point after gave the Panthers a 21-17 lead.
On the last play of the 3rd quarter Kaiden Armstead scored on a 5 yard "jet-sweep", and Craig's kick put the Eagles back on top 24-21.
Ray-Pec moved right down the field when Hawley completed 3 passes in a row to Jaidyn Doss. Fager scored his third touchdown on a 1-yard run. When the Eagles offense could not get a first down, after the punt, the Panthers needed just three plays to score again. Hawley to Doss for a long gain, set up Hawley to Nick Karr for a 6-yard score. Trey Kudron converted his 5th PAT, making the score 35-24.
The Eagles got it to a one score game after Zac Williams-Davis scored on a 25-yard run. Sam Van Dyne's two-point pass to Davis Rockers, were the final points of the game.
The Eagles had the ball with 2:01, but the Panthers defense would not give up a first down. The Panthers took over on downs and took a knee to secure the win.
Ray-Pec moves to 3-0 and will be home for Lee's Summit North. Liberty North drops to 0-2 and they will be on the road at Staley.