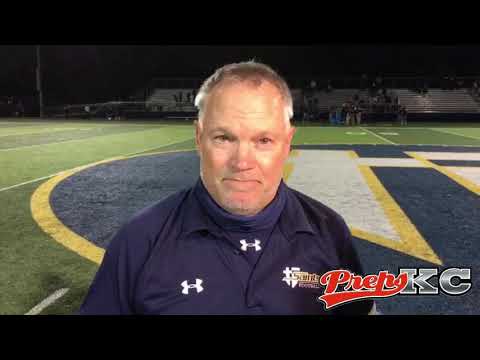 Complete Box Score and play by play
Randy Dreiling has been waiting to see what kind of team he will have in this disrupted and shortened 2020 high school football season. For the most part, the St. Thomas Aquinas head coach liked what he saw Friday night.
"We know we've got to get better. It's so good to be back playing football," said Dreiling. "I was impressed with the physicality of our defense. I was impressed with our ability to tackle. That's the number-one thing we took away from this game."
The St. Thomas Aquinas defense kept St. James Academy off the scoreboard, while Tank Young rushed for 245 yards and two touchdowns in the Saints' 28-0 season-opening victory over the visiting Thunder.
St. James Academy only penetrated the Saints' 20-yard line twice. In the second quarter, Tyler Claiborn caught a pass from Dakota Burritt and tight-roped the sideline for what appeared to be a 42-yard touchdown. But Claiborn was ruled out of bounds at the Saints' 17. The drive sputtered when Josh Kirby's 39-yard field goal attempt sailed wide right. On their next possession, the Thunder drove the ball to the Saints' five. St. Thomas Aquinas forced an incomplete pass on fourth-and-goal from the 10.
The Thunder converted only one of four fourth-down attempts, and that one came late when the game had long been decided.
"Our defense played about as good as I thought they could play," said Dreiling.
The Saints opened the game with two long scoring drives. The first lasted 16 plays and ended with quarterback Blake Anderson tossing a nine-yard touchdown pass to Evan Kammerer on fourth down. Then they went 71 yards in 15 plays. On third-and-11 at the Thunder 15, Anderson rolled to his right, avoided a sack, reversed to his left and ran into the endzone for a 14-0 lead.
"Unbelievable. He got drilled in the back and ducked," said Dreiling. "For once it pays to be 5-foot-10 instead of 6-5. And he scored on that play. It was incredible."
Anderson carried the ball 11 times for 63 yards.
"My O-line did a good job of opening up some holes for me, and I was able to make some plays in space," said the senior quarterback.
The Saints led 14-0 at the break, despite being whistled for nine penalties in the first half.
"It was an embarrassment. We were holding. We were not playing disciplined football. It's something we have to clean up," said Dreiling. "What felt good was to be able to go in at halftime and we're up 14-0, and our guys were disappointed in themselves. And I think that's good to know, hey, we can do better than we're doing."
The Thunder started the third quarter with the ball, and the Saints forced a three-and-out. Burritt's punt rolled down to the one-yard line. On first down, Young moved the ball up to the four-yard line. On second-and-seven, Anderson tossed it to Young, who accelerated down the right sideline for a 96-yard touchdown and a 21-0 lead.
"We ran a play that's been one of our best plays over the years, and we hadn't run it in the first half. We opened up with it on the second play. It's a little toss play where he kicks out with a guard," said Dreiling.
Later in the third quarter, Dajni Brooks returned a punt 27 yards to the St. James 42. On first down, Young caught a toss, ran to his left, then cut back for a 42-yard touchdown. Young had 157 of his 245 rushing yards after halftime.
"We were more focused and disciplined (in the second half)," said Anderson. "We cut down the penalties, and we opened up some holes for Tank. And Tank did what he normally does."
The "Holy War" between St. Thomas Aquinas and St. James Academy was scheduled to be played last Friday, but it was pushed back a week due to COVID-19 precautions. It was worth the wait for Anderson and the Saints.
"It was awesome. There's nothing like the Friday night lights, and we're just all thankful that we're able to play because some people aren't," said Anderson.
St. Thomas Aquinas (1-0) is 7-0 all-time against St. James Academy. The Saints now turn their focus to their annual showdown with Bishop Miege. The Thunder (0-1) are scheduled to play at Eudora next Friday