Photo Credit: Cody Thorn/Special to PrepsKC
COLUMBIA, Mo. — Mark Thomas further etched his name among the elite coaches in the history of Missouri high school football.
On Saturday, the veteran coach secured his fourth career state championship as he led Odessa to a 49-28 victory against Cassville in the Class 3 championship game at Faurot Field at Memorial Stadium.
The state title makes Thomas the only coach in MSHSAA history to win a state title with three different teams. He previously guided his alma mater Boonville to a title in 1998 and then Kearney to back-to-back titles in 2002-2003.
In his second stint at Odessa, he guided the Bulldogs to their first title since 1994.
"This is probably the most gratifying thing for me," Thomas said. "A week ago last Saturday, was the 45th anniversary of my high school winning the Class 3 championship when I graduated from Boonville. I told them my mission, every administrator, every athletic director, every parent and every player, my mission is to help these men — it has been the same and I've been doing it for 40 years — get that championship experience I had that had such a profound effect on me. I want that experience for these guys, and I have been fortunate a few times, but you'd like to do it a little more often, but when we get them, we will certainly celebrate."
The 15-0 Bulldogs are the first undefeated Class 3 champion since Maryville accomplished the feat last in 2013.
Odessa never trailed in the contest and that was largely due to Bryley Ray returning the opening kickoff 93 yards for a touchdown that only took 12 ticks off the clock
"That was a total game changer and it set the tone," said Ray, who later added an 80-yard touchdown catch to cap the scoring in the first quarter. "I'm not able to do that without my wedge and all the other guys out there. It's a great feeling."
Cassville (12-3) missed a field goal on its first drive, which was set up by a kickoff return that was one tackle away from back-to-back touchdowns to open the contest. Bowen Preddy returned the kickoff 47 yards to the Odessa 33-yard line and got pushed out of bounds by kicker Wade Johnson.
Quarterback Josey Meierarend, a Frank Fontana Award finalist, threw the first of his four touchdown passes with to Kade Kehl to make it 14-0 with less than 4 minutes to play in the quarter.
The opening frame ended with two touchdowns in the final six seconds.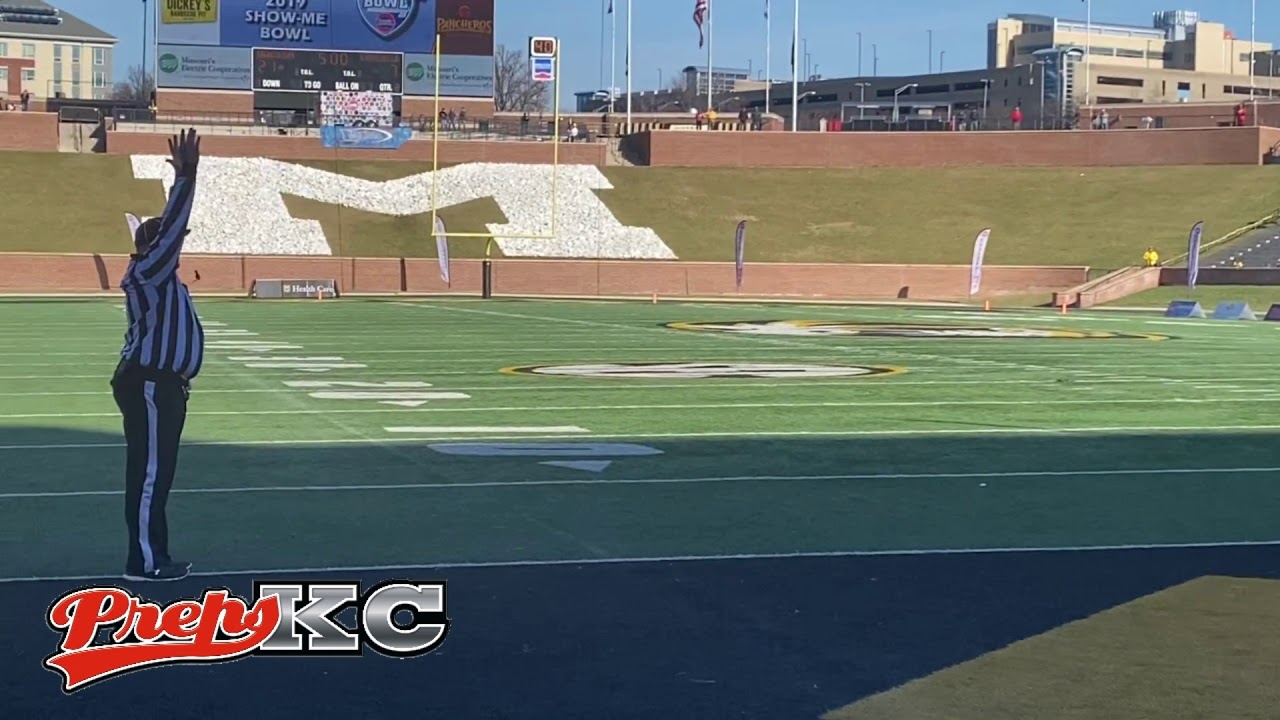 The Wildcats got on the board after a 3 ½ minute drive that ended with quarterback Deven Bates hitting DJ White for a 13-yard score. That play came right after a personal foul call on Odessa.
With 6 seconds left, Odessa took over at the 20-yard line and Meierarend hit Ray on a go route near the Cassville sideline and Ray outraced the defenders.
The 21-7 lead for Odessa grew thanks to two more touchdowns, which were sandwiched between a Cassville touchdown and a play where both teams had a turnover.
Meierarend, who started his 44th and final game for Odessa, hit Kehl for a 20-yard gain and Brett Duncan for a 29-yard play that saw him tackled at the 1. On the next play, Ethan Uhrlaub walked into for a touchdown.
Down 28-7, Bates tossed his second touchdown pass, this one to Drake Reese, to make cut the deficit to 28-14 with 1:43 to play in the first half.
Meierarend had the only blemish on his day during the next drive when a pass was intercepted by Cassville's Jericho Farris. He weaved his way up the field and then toward his sideline. Duncan punched the ball out and Ray recovered at the 48-yard line. Odessa essentially gained 20 yards on the play and kept the offense chugging. Duncan, after his big stop on defense, hauled in a 27-yard pass for a score with 44 seconds left in the first half that made it 35-14 at the break.
Cassville pulled a little closer in the third quarter with a pair of scores. The Wildcats converted a hook-and-ladder play for a 74-yard touchdown on the third play of the third quarter. Bates threw to Brett Cooper for a 14-yard gain and he pitched it to Preddy, who ran the remaining 60 yards. Zach Coenen added a 3-yard run late in the quarter to make it 42-28.
In between the two scores, Meierarend tossed a 6-yard touchdown to Carter Westerhold.
After blitzing Cassville through the air, the Bulldogs turned to the ground game and running back Luke Malizzi in the fourth quarter. He ran for 74 of his 199 yards over the final 12 minutes and added a 4-yard touchdown run to account for the final score.
Odessa racked up 505 yards of total offense in the win.
Meierarend threw for 280 yards, completing 19 of 25 passes, while adding another 22 on the ground.
Six different receivers had at least one catch, led by eight by Kehl, who finished with 92 yards.
The efforts of the receiving corps was key for an Odessa team that lost leading receiver Eliyh D'oboron to a broken collarbone in a semifinal win at Kennett.
Odessa was one of three schools during this state championship weekend to enter with a 14-game winning streak and it was the only one to make it 15 straight.
Ava lost in the Class 2 title game on Friday and Lincoln saw its win streak end in the Class 1 finals, 30-27 against Valle Catholic, on Saturday.
"Finishing the season 15-0 we certainly were not surprised," Thomas said. "We were here, and we knew we had the chance. Obviously, a lot of things had to fall in place along the way and fortunately they made it happen for us. We never blinked and never flinched. We took on everyone they brought.
"It's been 25 years for Odessa (to win a title) and I told these guys they would be heroes in our little community. I'm so very proud of them."