Photo Credit: Todd Nugent/Special to PrepsKC
COLUMBIA, Mo. — At least for a few hours, Platte County can take solace in losing to the best high school football program in MSHSAA history.
The Pirates were blanked 48-0 against Webb City on Friday night in the Class 4 championship game at Faurot Field at Memorial Stadium.
The championship is the 15th for Webb City, which breaks a tie, at least temporarily, with Valle Catholic. Each program entered this championship weekend with 14, though Valle Catholic will have a chance to match Webb City in the Class 1 title game on Saturday.
Webb City (14-1) dominated all facets of the Class 4 finals and won state title No. 12 for veteran coach John Roderique in his 14th appearance in the finals.
"We want to have what they have," Platte County coach Bill Utz said. "That is just it. You are talking about a program that has multiple state champions and in the hunt all the time. That is where we want to be as a program. I told the kids at the end to be that, you have to take a step first and getting here is the first step."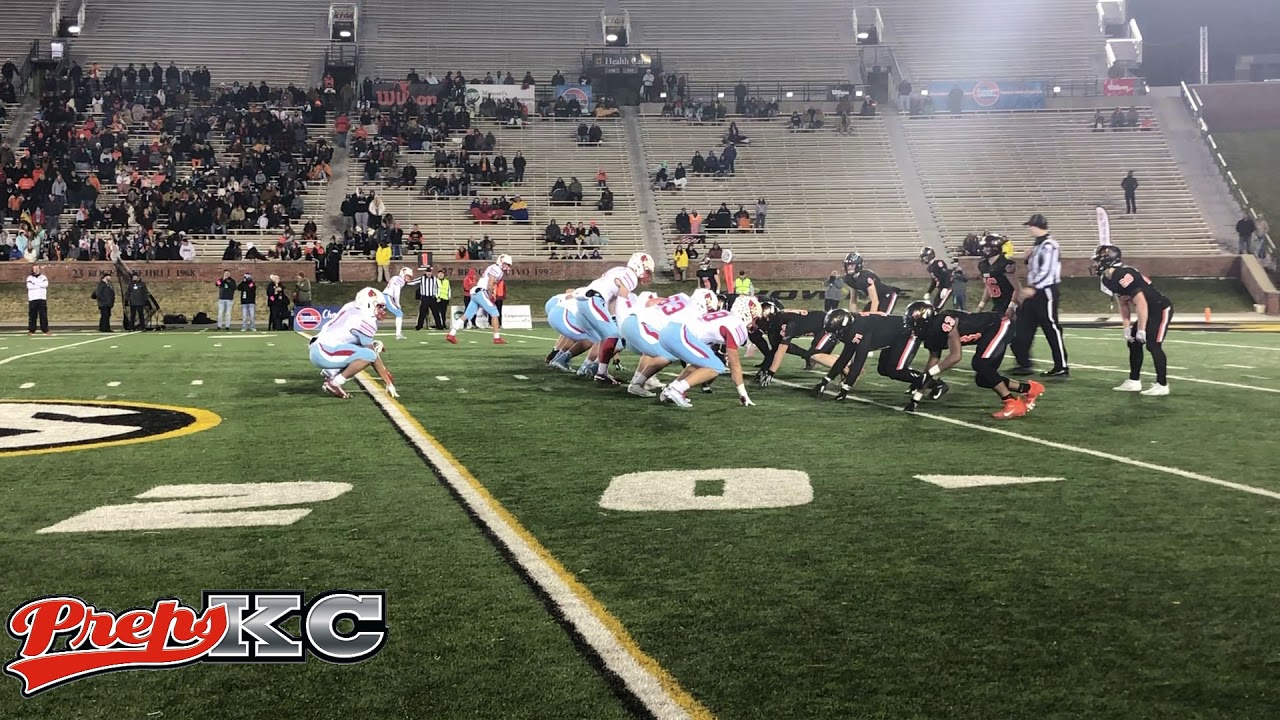 The Cardinals scored touchdowns seven of the eight times they had the ball and built a 28-0 lead by halftime. Webb City scored three times in the second quarter and took advantage of the limited plays by have scoring drives of three, two and seven plays to turn a 7-0 lead into a blowout.
Platte County (11-4) got the ball first and took nearly six minutes off the clock. The 10-play drive featured a fourth-down conversion on 1-yard run by Cayden Davis. A pass from Fontana Award finalist Chris Ruhnke to Dayton Mitchell netted eight yards and a late hit on Webb City gave the Pirates the ball at the Webb City 9-yard line.
The Pirates gained only two yards and Grant Allen missed a 24-yard field goal wide right.
"The first drive we came out and had a 10-play drive and that is what we wanted," said Ruhnke, who passed for 121 yards by completing 13 of 29 passes. "We wanted long drives and keep moving the chains. The first quarter, it felt good."
Webb City lost a yard on the first play when quarterback Kade Hicks was taken down behind the line of scrimmage by linebacker Garret Watson. Webb City converted a 4th-and-1 from its own 29-yard line when Terrell Kabala ran for 10 yards. Webb City then rattled off gains of 14 and 15 by Hicks before he hit Cale McCallister for a 5-yard gain. Hicks' 19-yard touchdown run put Webb City on the board with 2:12 left in the first quarter.
"They kind of had us going on the first drive," Roderique said. "That is one thing Platte County is good at, controlling the ball and the clock. They moved it down and moved it down. We had situations like that; the defense gives up all kind of yards and they end up holding them and keeping them out of the offense. After that point our offense feels good about what the defense does and they went to work."
Platte County moved from its own 38 to the Webb City 33 by the time the first quarter clock hit zeroes, trailing 7-0. The Pirates moved the Webb City 29, but lost yards on a false start on first down and never gained traction.
Allen attempted a 49-yard field goal but it fell just short of the cross bar with 11 minutes to play in the first half.
Webb City scored on three of its next four possessions to pull away. Devrin Weathers ran for an 11-yard score and then Kabala ran for a touchdown with five minutes left in the first half. In between — the only Webb City drive to not end in a touchdown — Platte County's Trent Rueckert intercepted a pass by Hicks.
Webb City turned to backup quarterback Eli Goddard for a passing play on the final drive of the first half. Goddard completed his only pass of the night, a 16-yarder to Weathers for a touchdown with 25 seconds left in the first quarter.
Hicks ran for a 10-yard touchdown midway through the third quarter to make it 35-0 and set the turbo clock in motion.
Webb City's rushing attack added touchdowns from Dillon Harlen and Bronson Alcazar in the fourth quarter. The Cardinals ran for 412 yards on 42 carries and only twice lost yardage.
Kabala ran for 126, while Hicks — the son of Webb City defensive coordinator Darrel Hicks — had 122. Harlen just missed the 100-yard mark with 94 yards.
"They are a physical team and we knew that coming in," Platte County senior linebacker Gabe Harmon said. "In practice, it is just hard to match that physicality and we haven't see many offenses like this. We had a lot of film and you try to study the film, but it is just a different speed when you come out and face a team like that."
Platte County was limited to 62 yards rushing and 121 passing against a Webb City defense that pitched its sixth shutout of the season.
The shutout in the state title is the second straight for Webb City, following a 14-0 win against Ladue Horton Watkins in 2017 and the sixth overall shutout in the championship game for Webb City.