Photo Credit: Nick Smith/PrepsKC
EMPORIA — Even before watching any film on Derby, Olathe North coach Chris McCartney knew his team had an extremely challenging task at hand with slowing down the Panthers' high-powered offense on Saturday during the Class 6A state championship game. The Panthers averaged 53.2 points per game going into the matchup with the Eagles, and they looked even more impressive live than they did on film to McCartney.
Derby lit up Emporia State's Welch Stadium scoreboard once again, as the Panthers coasted past the Eagles, 63-26, en route to their second straight 6A crown. The Panthers have won five state titles since 2013.
"They're perfect. They don't make mistakes," McCartney said. "Every time we adjusted to something; they had an answer. We just couldn't miss any tackles and couldn't miss any blocks and we did a few times. That's how they jumped out to an early lead."
The Eagles found themselves in a 21-0 hole after eight minutes, but McCartney's squad didn't back down. After junior Dale Stout jump-started the Eagles with a 50-yard run on a reverse, junior Arland Bruce IV put the Eagles on the board with a 1-yard touchdown run with 2:41 to go in the first quarter.
The Olathe North defense then rose to the occasion by forcing Derby to a rare three-and-out, which allowed Bruce IV to get right back to work. The Simone Award finalist scored on another 1-yard run with 9:02 remaining in the first half to cut the Eagles' deficit to 21-13.
"It shows that we never give up. We have a lot of fight in us," Bruce IV said. "That's just what North has been about. We just didn't get the result we wanted. We'll make sure to pick it up next year."
While Bruce IV's talents were on display on the biggest stage, his counterpart's skill set had everyone's full attention as well. Derby quarterback Lem Wash accounted for five of the Panthers' six first-half touchdowns, as the Panthers went into the locker room with a 42-13 halftime lead. Wash helped Derby break the record for points scored in a 6A state game, which was previously held by Blue Valley North in the Mustangs' 49-42 win over the Panthers in 2017.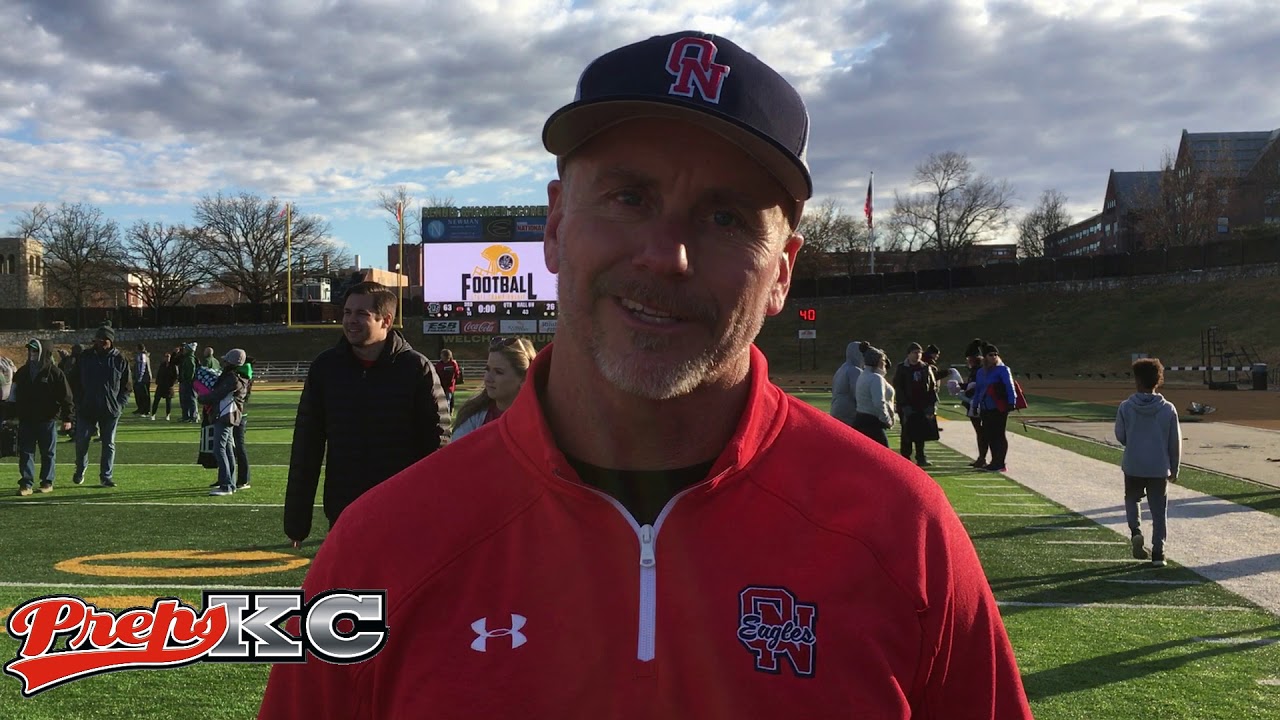 Before handing the quarterback duties to Graham Adler to begin the second half, Wash rushed for 164 yards and four touchdowns on 14 carries and completed 5 of 7 passes for 115 yards and another score. The touchdown through the air went to Reid Liston on an 81-yard pass over the middle.
The Panthers didn't miss a beat with Adler under center in the third quarter. Adler finished off the Panthers' first drive of the second half with an 8-yard touchdown run. Wash joined Tre Washington in the backfield at tailback after the break. Derby racked up 438 of its 674 yards of total offense on the ground. Wash (15 carries for 177 yards and four touchdowns) and Washington (16 carries for 152 yards and two touchdowns) were both over the century mark for rushing yards early in the second quarter.
Liston moved from receiver to quarterback in the fourth quarter and rushed for 79 yards to go along with his 118 receiving yards.
Derby went on to build a 63-13 lead after a Dylan Edwards 24-yard touchdown run with 10:27 remaining, but the Eagles still didn't give in. Senior Jackson Sarver connected with junior Mario Sanchez on a 69-yard touchdown pass with 5:47 to go. Junior Abram Phillips gave the ball right back the Eagles with an interception deep in Derby territory. Bruce IV capitalized on the Panthers' lone turnover with a 2-yard touchdown.
The 5-foot-11, 185-pound quarterback broke the 6A state championship game record for carries with 39. Bruce IV's three touchdowns were his 41st, 42nd and 43rd of the season. He ran for 128 yards to finish with 2,487 for the 2019 campaign.
"He's a fighter. He's going to take his punches and he's going to stand back up and he's going to start swinging again," said McCartney of Bruce IV. "He has the heart of a champion. He's a good one."
While Bruce IV paced the Eagles offensively, senior AJ Patillo led the way defensively with 11 tackles. Bruce IV is thankful for the leadership of Patillo and the rest of the senior class.
"The seniors led us to this game. We're going to miss them," Bruce IV said. "I'm proud of them. We'll be back next year."