Photo Credit: Kenny Daniel/Special to PrepsKC
Daniel Jackson could feel something special in the November air Friday night.
"I felt good coming out and warming up. I didn't feel the cold at all. I just played my game," said Jackson. "Once I get the ball in my hands, I know I can make something happen."
Jackson caught four touchdowns passes, leading Bishop Miege to a 48-14 Class 4A semifinal rout of Paola. The Stags (10-2) advance to their sixth straight state championship game.
Jackson broke a Kansas state record for the most receiving touchdowns in a single season. The University of Minnesota commit has 25 touchdowns with one more game to go in his high school career.
"It's special to be in the record books and have my name in history forever or until somebody else breaks it," said Jackson. "I'm gonna set it high next week and see what happens."
The number-one ranked Stags took care of business in swift fashion, scoring touchdowns on each of their six first half possessions. On the second play from scrimmage, Jackson caught a pass from Timothy Dorsey on the edge and raced 48 yards down the sideline to the endzone. Dorsey threw three touchdown passes in the half (two to Jackson and one to Phillipe Wesley), and back-up QB Joe Lopez connected with Jackson on a 35-yard score. Brison Cobbins (16 carries for 135 yards) added a pair of touchdown runs.
"That was our game plan. We had to score early," said Bishop Miege Head Coach Jon Holmes. "We told our defense we can't let them make plays. And we really did a good job scoring the ball on offense."
The Stags led 41-0 at halftime.
"This was a great team and we prepared all week to come out fast," said Jackson, who caught five passes for 122 yards. "Get the ball on the edge for our playmakers to make plays. That's what we did tonight."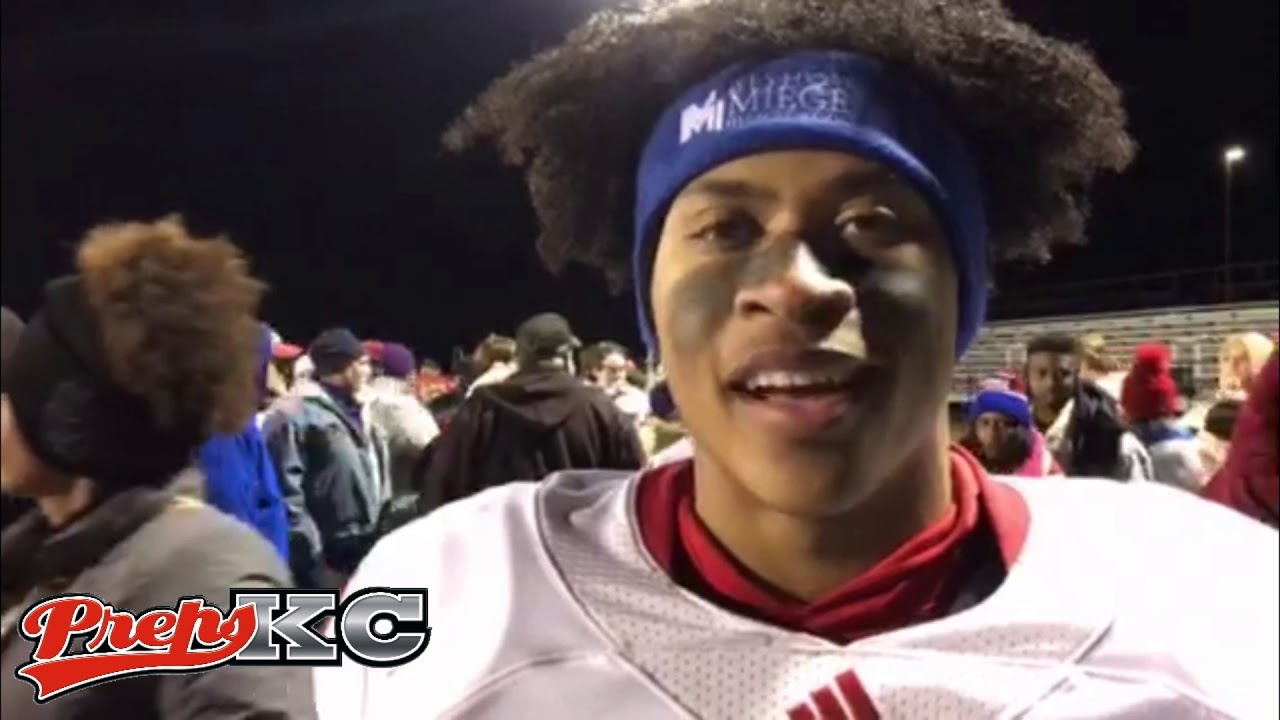 Dorsey opened the third quarter with his fourth touchdown pass of the night. It was also Jackson's fourth touchdown. The scoreboard read 48-0, and the running clock was in effect for the rest of the night.
"If we can run and throw the ball the way we are evenly... Brison Cobbins, Timmy Dorsey, Phililpe Wesley, Daniel Jackson, Connor Doble and Mack Moeller... it's a great group of skill guys. We were able to get some of those guys open tonight," said Holmes.
Paola (11-1) finally cracked the scoreboard in the fourth quarter on touchdown runs by Fletcher Aude and Brock Pitzer.
Now Bishop Miege moves on to the Class 4A state championship game next Saturday in Topeka against Andover Central. The Stags will be playing for their sixth straight state title and the tenth in school history.
"There's a lot of pressure on us week to week to win. Anytime kids can reach a goal to get back to a state game is big," said Holmes. "Each year is a new team for us, so it's a new group of seniors and first-time starters. So this will be a great week for us as we try to get a sixth one in a row."