All year long, Liberty North's ferocious defense has been finding ways to turn the tide in their favor at just the right moment.
This time around, senior safety Alex Miller delivered a timely pick-six that gave the Eagles a big boost in momentum during a 31-0 victory against Lee's Summit West during the first round of Class 6 District 4 play.
Miller snagged two interceptions during the game and said trusting his instincts allowed him to make the pivotal play and score his first touchdown, as well.
"You just try to do your job and be fundamental," Miller said. "It puts you in the right place at the right time, and I was happy to be there."
The win gave Liberty North (10-0) its first shutout of the season and set up an exciting matchup against Rockhurst in the next round of the postseason. But first Liberty North had to get by a Lee's Summit West squad that ended the Eagles' season a year ago.
Both defenses set the tone early during a scoreless first quarter, and Liberty North gradually found its footing and struck first on a touchdown run by Zac Willingham-Davis in the second quarter.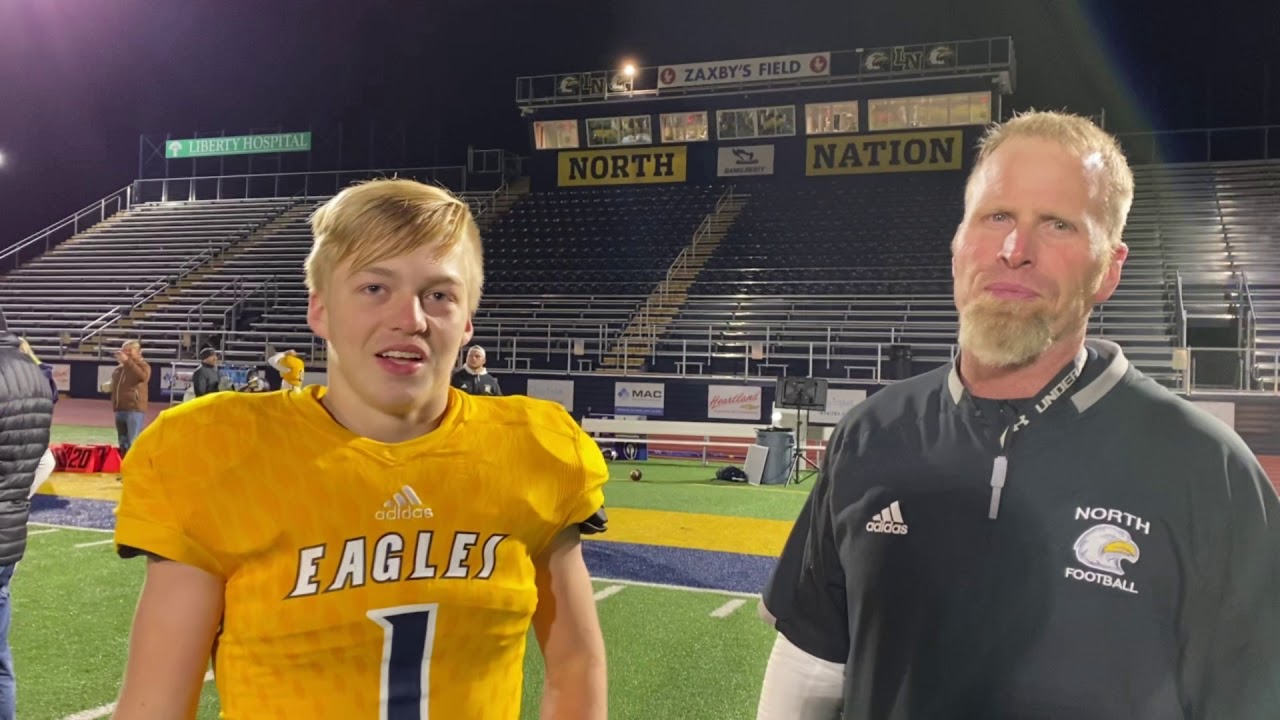 Putting up a strong defensive showing was crucial for Liberty North coach Greg Jones, whose team allowed a season-high 35 points in a shootout against Park Hill South last week.
"I know they took it with kind of a chip on their shoulders and came out this week and prepared extremely hard," Jones said.
The Titans looked like they would tie the game after a long touchdown pass from Sammy Cooper to Travor Kardell, but the play was called back on a penalty. Liberty North was forced to punt on the ensuing drive, but that's when Miller stepped up.
He jumped a short passing route, snagged the pick and raced to the end zone to give the Eagles a bit more breathing room.
"We just try to do everything we can to help us win," Miller said. "For me to get that play, it was a snowball play. We just keep going and going."
Sure enough, Liberty North forced another quick stop defensively and then drove 60 yards in less than a minute, tacking on another touchdown when Jake Van Dyne found Tyler Jenness with 2 seconds before halftime.
Jones said he was pleased with the execution and urgency late in the first half that put the Eagles in control for good.
"I think scoring right before half to be able to go up like that, to go down and score with a minute left on the clock, gave our kids a lot of momentum," Jones said.
On the first possession of the second half, Warren Bennett III finished off a lengthy drive with a touchdown catch that gave Liberty North even more breathing room, and the defense smothered Lee's Summit West the rest of the way.
Van Dyne finished with 205 yards passing and two touchdowns, while Bennett led the way with 86 receiving yards. Running backs Keshawn Turner and Willingham-Davis combined for 99 yards on the ground and consistently moved the chains against a tough Titans' defense.
For Lee's Summit West, Sammy Cooper threw for 103 yards, and running back Taylor Wilson led the squad with 47 rushing yards.
Going into the game, Liberty North had held teams to seven points or less five times this year. But this marked the team's first shutout of the season against a team averaging more than 26 points per game this season.
Next week's matchup against Rockhurst will be the first meeting between the two schools, and Jones said he's glad to see this group playing so well entering the playoffs.
"I feel blessed because it's like I told them before we took the field tonight," Jones said. "All I wanted is just to continue week to week because this group of seniors, we don't want to say goodbye to them.
"They've been one heck of a group of seniors."