As Tonganoxie senior Cooper Cunningham crossed the goal line late in the fourth quarter against Piper on Friday, THS junior quarterback Blake Poje wasn't too far behind him. Cunningham rumbled for 234 yards and two touchdowns to power the Chieftains to a 21-12 victory over the Pirates, and Poje best summed up his running back's performance while hugging him in the end zone.
"They can't stop you!" Poje yelled.
Cunningham wasn't one to boast about his stats after the physical matchup against the Pirates. All he cared about was that the Chieftains' 21 points were enough to move Tongie to 5-0.
"It was a tough game, but it feels pretty good," Cunningham said.
Despite Cunningham's huge night running the football, the Chieftains found themselves in a one-score game with the Pirates for 46-plus minutes. It was a defensive battle for three quarters, with Tongie holding a 7-6 edge until Cunningham found pay dirt with 11:44 to play.
"He's got great vision. He's got great speed," Tongie coach Al Troyer said. "Then once he gets into the open, he's hard to bring down. He's a hard runner. He did a great job and it showed in the second half."
The 5-foot-11, 183-pound bruising back didn't have much time to catch his breath, as he logged 40 carries and played in the secondary on defense. Cunningham was pleased that he didn't have to make too many big plays on the defensive side of the ball, thanks to the Chieftains front seven consistently getting into the Piper backfield.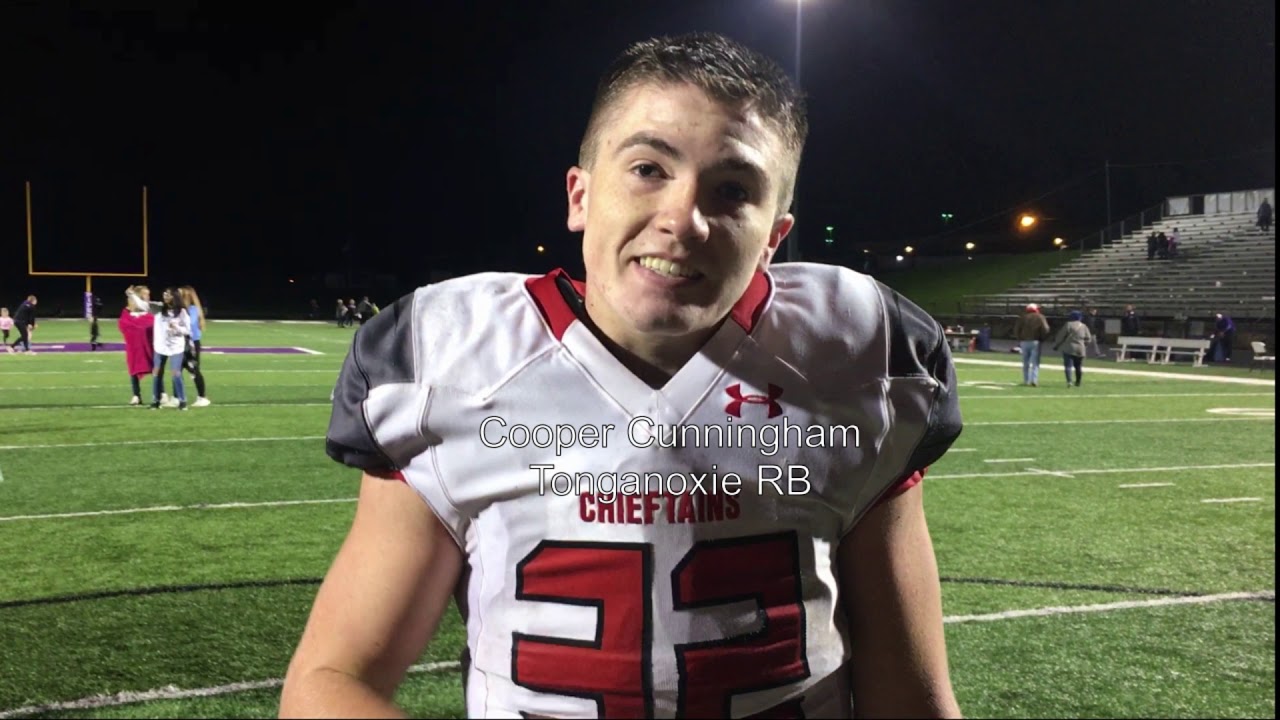 "Great job. They were resilient," Troyer said. "They let a few (big plays) out on that one drive, but other than that they played a great game."
The Chieftains defense got off to a hot start by keeping the Pirates off the board on their first drive that stalled inside the THS 10-yard line after an incomplete pass on 4th and goal. Boje then engineered a 93-yard touchdown drive that was capped with a 5-yard pass to junior Dallas Bond on 4th and goal. Bond led all Tongie receivers with four catches for 84 yards.
The Pirates only needed 15 seconds to answer the Tongie touchdown drive. While the Tongie defense held Pirates junior running back LeJames White in check for much of the game, Piper's biggest playmaker still found a way to make a difference, as he returned the ensuing kickoff 74 yards for a touchdown.
"He's a great player wherever we can put him on the field," Piper coach Rick Pollard said. "If he was the water boy, he'd be the best water boy in the state. LeJames is just a competitor and he's going to compete."
Piper had quick answers to two out of Tongie's three touchdowns. After Cunningham scored on the second play of the fourth quarter to push the Chieftains' lead to 14-6, Piper sophomore quarterback Karson Schaunaman brought the Pirates back within two when he scored on a 10-yard run with 8:12 to go. However, Schaunaman's pass on the 2-point conversion fell incomplete. Pollard was disappointed that Schaunaman didn't get more help from his receivers on some pivotal passing plays.
"We dropped two touchdown passes or that game could be completely different," Pollard said. "Our kids are learning to respond. We're trying to change the culture around here and our kids are learning how to change that."
The Pirates have dropped back-to-back contests to drop to 3-2. Pollard has full confidence that his team will return to practice ready to work and get back to their winning ways. Piper will try to get back on track at 7 p.m. Friday at Paola.
"What I told them was that we're to use this to catapult our season on the rest of the way and into the playoffs and whatnot," Pollard said. "Our kids last week didn't play very focused, but we had a great week of practice. We came up short today, but they did what we were telling them to do. I was very proud of them."
As the Chieftains put their perfect record on the line again at 7 p.m. Friday when the play host to Spring Hill, Troyer knows that his squad will have to keep up its physicality if they want to continue to see the same results.
"We've just got to press forward. There are good teams coming down the road," Troyer said. "We've got to push. It's not going to be given."