Luke Grimm figured he had missed his only opportunity at a kickoff return for a touchdown during Ray-Pec's game Friday night at Blue Springs. Early in the second quarter, Grimm found a lane for a 59-yard return but was tripped up at the Wildcat 38-yard line.
Turns out he would get one more shot, and he made the most of it.
Grimm took the opening kickoff of the second half 99 yards for a score to put the Panthers ahead for good, 20-14, on their way to a 41-29 victory.
"My heels were right on the goal line," Grimm said of where he caught the kickoff. "I thought there was no way they were going to kick it to me again. I tripped on the last one, but I wasn't going to let anybody catch me this time."
The return seemed to be a springboard for the Panthers, as they dominated the third quarter. Just 3 seconds into the fourth quarter they held a 34-14 lead.
"We had a horrible third quarter," Blue Springs head coach Kelly Donohoe said. "We haven't had a quarter that bad in a long time. Everything that could go wrong, did go wrong."
It started with the Grimm kickoff return. After that, both teams traded punts. Four plays into their second drive of the half, Wildcat quarterback Dom Harkness had a pass sail on him, and it was picked off by Jackson Hilsabeck.
It only took one play for the Panther offense to respond, as quarterback Conrad Hawley found running back Gabe Shanklin wide open out the backfield for a 26-yard touchdown and a 27-14 lead.
"That momentum from turnovers and special teams scores in high school football, it's such a backbreaker for the other team," Panthers head coach Tom Kruse said.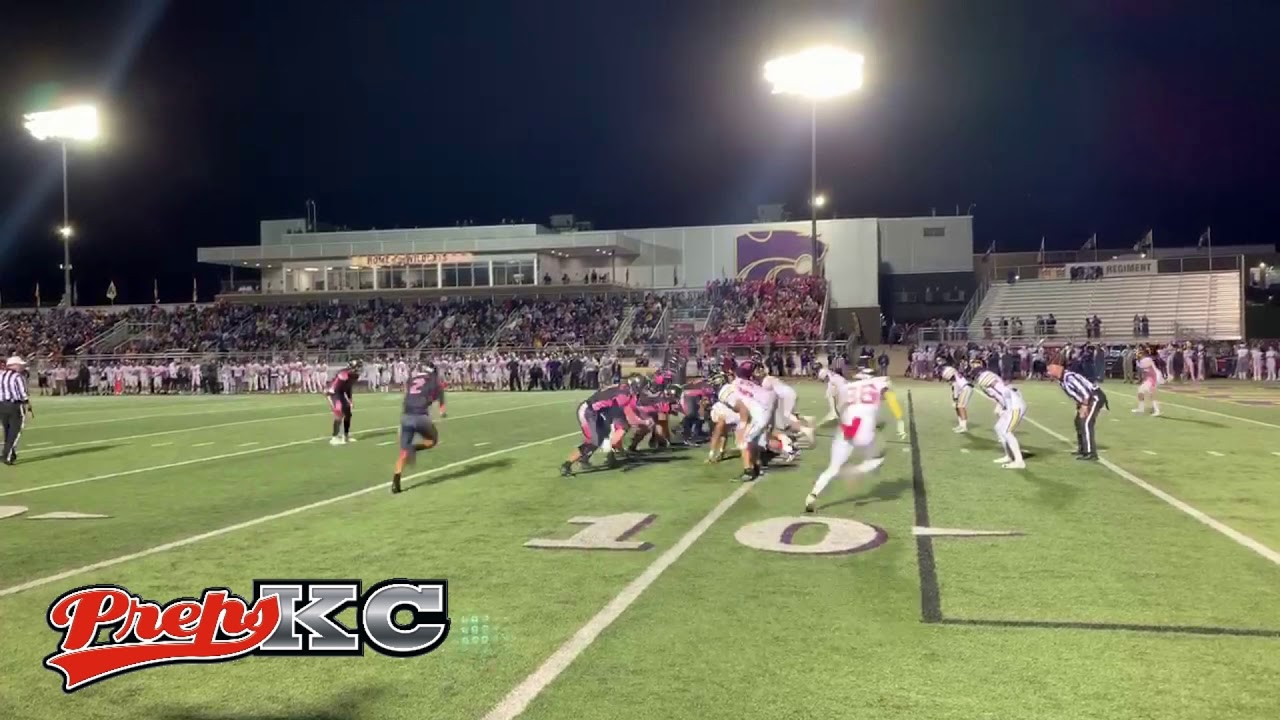 With their backs against the wall a bit, Donohoe and the Wildcats elected to go for it on fourth-and-four from their own 46 on their ensuing drive. The Panther defense stuffed Quentin Fontenot for a 1-yard loss, giving the Panthers the ball back on the Wildcat 45.
Seven plays later, and on the first play of the fourth quarter, Shanklin found the end zone again, this time from 1 yard out for a 34-14 lead.
After having to settle for a pair of short field goals in the first half that found them trailing 14-13, the Panther offense turned those into touchdowns in the second half.
"It's big to get those touchdowns because it feels like it sucks the life out of them," Grimm said.
The Panthers had to withstand a late charge from the Wildcats. Harkness found Cooper Willich for a 69-yard touchdown pass to make it 34-22 after the two-point conversion. After a quick three-and-out by Ray-Pec, Harkness scored on a nifty 63-yard run on fourth-and-six to make it 34-29.
Another three-and-out by the Panthers gave Blue Springs a shot to drive down and take the lead but an incomplete pass on fourth-and-11 all but ended a potential comeback.
"The positive thing is that we fought in the fourth quarter," Donohoe said. "We had a chance. We got the ball back with a chance but couldn't execute. You just can't have turnovers on offense and give up big plays on special teams, and we did both tonight."
Grimm would tack on one more touchdown in the waning minutes to seal the victory. The University of Kansas commit did a little bit of everything, running for 46 yards to go along with 25 yards receiving, two big kick returns and three total touchdowns. Shanklin ran for 94 yards and a score, while also catching three passes for 38 yards and another score.
"Pick your poison," Grimm said of the duo. "He has a motor that never stops. It's the same thing with Phillip (Fager). That's how Coach Kruse has taught us to run. Don't let one guy bring you down. We play with heart and our O-line is the best in the state for that."
The Panthers are now 4-2 and, most importantly, bounced back after a 13-10 loss against Park Hill last week.
"We had a couple of great practices on Tuesday and Wednesday this week after getting gut-punched last week," Kruse said. "We've got some great leadership. Hopefully, we can get the momentum going again. We have a chance to make some noise."