Photo Credit: David Smith/Special to PrepsKC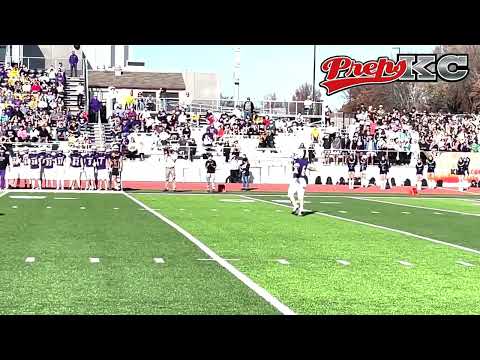 Kearney's execution of its game plan was as beautiful as the 60-degree November afternoon it came on.
The No. 4 Bulldogs left no doubt in beating Nevada 35-0 on Saturday afternoon in the Class 4 quarterfinals on Saturday afternoon in Kearney.
"We didn't see it going quite that way, they're a dang good football team," Kearney head coach Logan Minnick said. "We knew if we could stop the run, there were some things we really liked offensively. Unbelievable effort by our defense to shut down that run scheme and great execution by our offense, putting the ball in our playmakers' hands."
After the teams exchanged punts, Kearney's second drive gave a glimpse of how this game would play out.
With 6:55 left in the first, Cameron Emmons broke free for 59 yards and a Bulldog 7-0 lead.
Some three minutes later, Casey Rooney went up top to Manny Linthacum for a 40-yard score.
Cameron Emmons' second rushing TD of the game came at 9:31 of the second and Kearney led 21-0.
Late in the half, Rooney scored on a QB keeper to make it a 28-point lead.
With just 34 seconds left, Rooney threw his second TD pass of the half, a 24-yard toss to Cohen Jacobs, and it was 35-0 at halftime.
"We had to be more physical this week," Rooney said. "It was a great game plan and great preparation. We just had to come out here and execute. That's exactly what we did."
Kearney (11-2) advances to the semifinals to play Jefferson City (9-4) next Saturday.
"We've talked about how last year we started 10-0 and didn't finish," Minnick said. "This year our team motto has been 'Finish'. We've been telling our kids all year we need to be playing our best football this time of year and I think we did today."