Photo Credit: Roman Puno/PrepsKC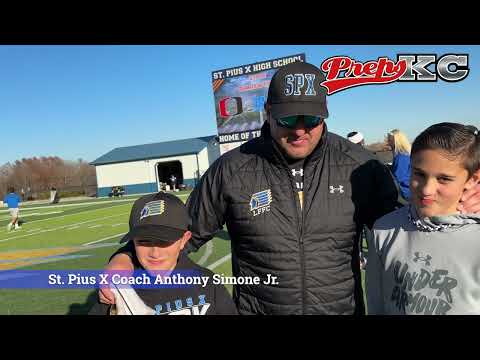 It's not how you start the season, but how you finish.
That phrase has never been more true, especially for St. Pius X.
The Warriors (12-2) came into Saturday's Class 3 quarterfinal against Odessa with one thing on their mind: play on Thanksgiving weekend, and they will thanks to an impressive 42-7 win over the Bulldogs.
"I was lucky enough to practice on Thanksgiving a few times when I went to school here," St. Pius X coach Anthony Simone said. "We practice at 9 a.m. in the morning and practice and then go have family Thanksgiving (dinner).
"It's special. Anytime you get to play on semifinal Saturday, and practice on Thanksgiving and it's something we always talk about 'there are four teams left (in the playoffs), you guys have earned this' … It's a special day (for us)."
Charles Ross III opened the scoring for Pius as he scored his first of four touchdowns on the day with an 18-yard reverse, to give the Warriors an early 7-0 lead midway through the first quarter.
Odessa answered the Pius touchdown on its ensuing drive, as Douryun D'obron called his own number, as he scampered into with a 49-yard run to tie the game at 7-7.
The Warriors reclaimed the lead — a lead they wouldn't relinquish — at the beginning of the second quarter, as Ross scored on an 18-yard screen pass from Hudson Bailey, to go up 14-7.
"He can catch the ball at receiver and run the ball out of the backfield," Simone said. "When you're mixing it up between him (Ross) and Larry (Cascone), it's just a different one-two punch. Larry is going to come downhill and punch you in the mouth and Charles is that guy that can hit that seam and go."
Odessa threatened to tie the game on its ensuing possession, but Grant Redd had other plans.
After getting beat on a slant early in the game, Redd didn't bite on the fake and tracked the receiver to the end zone and intercepted D'obron.
"I knew they were going to try and attack me," Redd said. "I just sat on that fake and went up and got it."
The Warriors were able to capitalize on Redd's interception as Ross scored his third touchdown, with a nifty 21-yard touchdown down the far sideline to give Pius a 21-7 lead.
With the win, Pius will play in the semifinals for the third time in four seasons, but in order to get back to Columbia, the Warriors will have to beat a very talented Seneca team. A challenge they are willing to take on as a team.
"We've got to take care of business," Redd said. "We're fighting for one more week together. … we've got to stay together and play as a team."