Photo Credit: Nick Smith/PrepsKC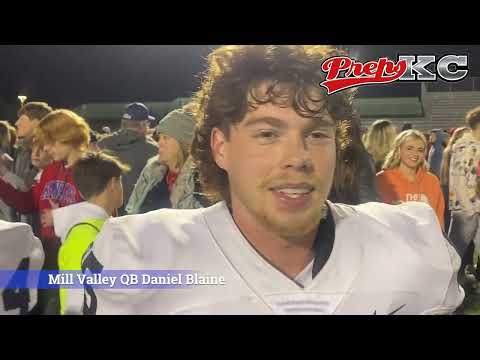 Mill Valley quarterback Daniel Blaine had always dreamed of playing for the Jaguars in the 5A state title game. On third and goal from the 7-yard line, trailing by five with 3 seconds to go in the 5A state semifinals on Friday against Blue Valley Southwest, Blaine took matters into his own hands to turn his dream into a reality.
Blaine rolled out and made two Blue Valley Southwest defenders miss on the way to the end zone, lifting the Jaguars to a 48-47 walk-off victory. The senior quarterback's touchdown run sent Mill Valley to the 5A state title game for the fifth straight season. The Jaguars (10-2) will take on Kapaun Mt. Carmel at 1 p.m. on November 25 at Pittsburg State's Carnie Smith Stadium.
"It's a dream come true for me," Blaine said. "Ever since I was a little kid with watching the older kids go to state, it's been something I've been wanting to do my entire life. Hopefully we can go back to Pittsburg and win again."
Blaine and the Jaguars led 35-17 after Tristan Baker's 32-yard touchdown run with 9:45 left in the second quarter, but Blue Valley Southwest wasn't about to let the Jaguars put the game away early like they did in the 2022 5A state semifinals. Mill Valley upended BVSW, 63-0, last year.
To be seconds away from the first trip to state in school history stung for Blue Valley Southwest coach Anthony Orrick in the Timberwolves, but he was proud of how his team rose to the occasion to keep history from repeating itself.
"We took huge strides," Orrick said. "That was a tough game last year and told ourselves that we weren't going to let that happen again. I think we proved that tonight. We still gave up too many points, but we did some good things."
The Timberwolves made huge strides in Friday's game itself, scoring 30 unanswered points to take a 47-35 lead with 15 seconds remaining in the third quarter. Southwest quarterback Dylan Dunn was dialed in while leading the Timberwolves' comeback effort. Dunn completed 32 of 49 passes for 494 yards and five touchdowns and no interceptions.
Alex Parks (seven catches for 160 yards) paced the Timberwolves' receiving corps by hauling in three of Dunn's touchdown tosses. Tate Everard tallied a team-high 10 catches for 152 yards and touchdown, and Emmitt Peters' 5-yard touchdown grab pushed the Timberwolves' lead to 47-35.
Dunn threw two touchdown passes to Parks in the second quarter to make it a one-score game again, and Max Flowers connected on the second of his two field goals right before the half to cut the deficit to 35-34.
The Timberwolves kept rolling in the third quarter under the direction of Dunn. He engineered a 99-yard drive, which was capped by another Parks touchdown grab, to give the Timberwolves their first lead since 3-0. Dunn then guided Southwest on a 90-yard touchdown drive on its next possession to push the lead to 12.
"(Dunn) has changed everything for us as far as how we run our offense and the things that we do," Orrick said. "He's expressed his leadership all year long. Our ability to score has been a big deal for us."
The 5-yard touchdown strike to Peters late in the third would be the last score for the Timberwolves, though. The Jaguars had their backs against the wall going into the fourth with a 12-point deficit and being without Baker, who left the game with an injury in the third quarter and didn't return. Baker rushed for 202 yards and two touchdowns on 15 carries.
"(The win) was all for him," Blaine said of Baker. "Tristan has been one of the biggest backbones of this team. Seeing him go down kind of hurt us, but we had to step up. (Jaden) Scobee did a phenomenal job stepping up and taking that spot on."
Blaine kept the Jaguars alive by completing a fourth down pass on a fake punt and then scored on a 10-yard run four plays to trim BVSW's lead to 47-42. But the Jaguars still had to find a way to stop Dunn and company.
The Timberwolves fed Drake Dombrosky (19 carries for 95 yards and a touchdown) to eat up the clock and had the ball in Mill Valley territory with under four minutes to play. BVSW found itself in a tough spot, though, facing a 4th and 7 from the Mill Valley 32-yard line with 3:11 to go. Orrick initially sent out Flowers, who had made attempts from 39 and 42 yards in the first half, to kick a 49-yarder.
After taking a timeout to think about it, Orrick sent the offense back on the field to go for it. Dunn's pass fell incomplete, which turned it over to Mill Valley on downs.
"With a 50-yarder, a lot of things need to go right. I felt like we had the right play call to pick up the first down," Orrick said. "I think we still did and just missed it. It's a game of inches and we missed."
A 13-yard run by Jaden Scobee and a 13-yard catch by Andy Watts (with a late hit added to the end of the play) suddenly put Mill Valley at the BVSW 28-yard line. The Jaguars thought they took the lead four plays later on a 13-yard Blaine run with 55 seconds left, but it was called back due to a holding penalty.
The Jaguars eventually faced a 3rd and goal from the 7 with 11 seconds to go with no timeouts. This time, Blue Valley Southwest thought it had the game won with a sack, but Blaine's passing attempt was ruled incomplete rather than his knee being down on a bang-bang play.
That set up a 4th and goal from the 7 with 3 seconds left. Blaine dove into the end zone as time expired before being mobbed by his teammates. The Mill Valley quarterback rushed for 112 yards and four touchdowns on 21 carries and threw a 66-yard touchdown strike to Cooper Schreiber.
"I'm very proud of him. He's been through a lot this year," Mill Valley coach Joel Applebee said. "He split time early on, and sometimes as a senior, that can be tough. He just kept his head down with preparing every single day. I'm just really proud of him. He's worked really hard for this moment."
The Jaguars will take on a Kapaun Mt. Carmel squad that defeated Goddard-Eisenhower, 42-39, in the other state semifinal. Applebee and his team will celebrate the thrilling win over Southwest, but he made it clear that they aren't satisfied with just making it to state.
"It doesn't matter who we play; it's about us. Just like every single week, it's always about us," Applebee said. "We're obviously going to respect every opponent we play. Kapaun is a great team, but we're going to focus on us this week."