Photo Credit: Jeff Stead/PrepsKC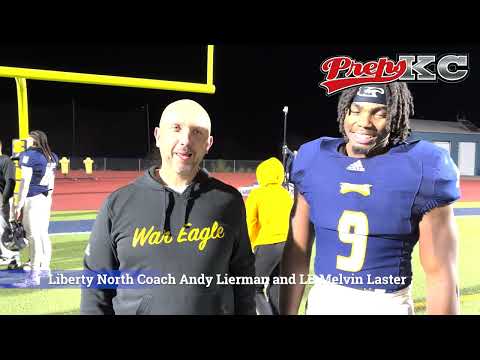 Thanks to a dominant performance in all three phases, Liberty North cruised into the state semifinals for the fourth consecutive season.
The Eagles jumped out to a quick start and never looked back on the way to a 38-7 victory against Oak Park on Friday night in the Class 6 quarterfinals.
Liberty North scored on its first three possessions to establish a significant lead, nearly posted a shutout on defense and even benefitted from a blocked punt return for a touchdown against an Oak Park team that entered the game undefeated.
Add it all up, and Eagles' coach Andy Lierman said his team probably played its best game of the year to set up a semifinal matchup against Rockhurst next week.
"We came out and performed very well against a great Oak Park team. They've had a great season and have been playing really well," Lierman said. "… I'm just proud of our kids. They continue to execute each and every week, even though everybody expects them to win all the time.
"They never, ever let up and just keep preparing and getting ready."
Halfway through the first quarter, the Eagles (11-1) took the lead for good on a methodical drive that resulted in a 1-yard touchdown run by Micah Jo Barnett. But it was Liberty North's passing game that really kicked things off.
Quarterback Tillman Martin threw touchdown passes to Keelan Smith and Jay Ross in the first quarter that gave the Eagles a comfortable lead in the early stages.
Smith's touchdown reception – a 33-yard dime from Martin – came one play after an Eagles' fumble recovery by Ryan Hutson that fueled Liberty North's hot start.
"I definitely feel like it put a dagger into them. I think it shocked them pretty early," Smith said of his touchdown. "(Oak Park was) pretty confident. They had nothing to lose coming in here.
"It was definitely a dagger, but without the defensive stop, I wouldn't be in that position."
Speaking of the defense, Liberty North swarmed the Northmen's option attack from the get-go, and didn't allow them to run a play inside the Eagles' half of the field the entire first half.
Facing off against a team that had scored 40-plus points seven times this year, Eagles linebacker Melvin Laster threw credit to the coaching staff for implementing a game plan that ultimately stifled Oak Park's offense.
"We were totally ready for this challenge today," Laster said. "Our coaches set us up, and we just executed all the plans they set up for us."
Evan before halftime, Liberty North built on its lead thanks to a 52-yard touchdown run by Barnett – his second TD of the game – followed by a punt block touchdown. Sophomore Derrick Davis broke through the line, blocked the kick and then picked up the loose ball to reach the end zone – making it 35-0 at halftime.
In a fast-moving second half, Oak Park running back Travon Pankey helped the Northmen prevent the shutout thanks to a 71-yard touchdown run late in the game. Despite the loss, Oak Park (11-1) put together one of the best seasons in program history and claimed its first district title since 2001.
With the win, the Eagles advanced to the Class 6 semifinals for the fourth consecutive season and will face off against Rockhurst next week.
Liberty North defeated the Hawklets, 35-7, earlier this year, and Laster said he's looking forward to the pivotal rematch between two teams who have only made strides since that previous matchup.
"We're 100 percent amped up," Laster said. "We know that they've gotten better, and you've noticed that we've gotten better. So, it's going to be a good game."