Photo Credit: David Smith/Special to PrepsKC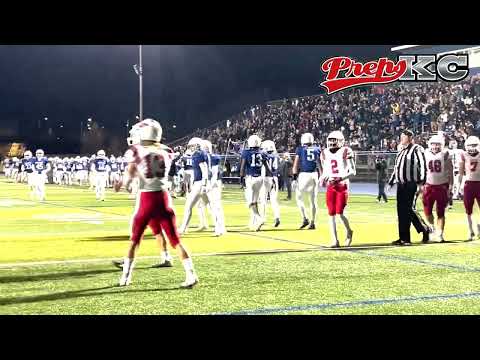 Rockhurst thoroughly controlled every aspect of the game in defeating Nixa 38-14 in the Class 6 quarterfinals.
In the fourth quarter, down by three scores, Nixa was driving into Rockhurst territory for its last chance at surviving a trip to Rockhurst and moving on to the semifinals.
Nixa quarterback Nate Uber saw a receiver over the middle on a 10-yard route. Thomas Coppinger hid in the middle of the Rockhurst defense, sitting on the slant route. As Uber let go of the pass, Coppinger moved into position and grabbed the ball out of the air for the third pick of the night for the Rockhurst defense.
"Those were huge," Coppinger said. "We always talk about winning the turnover battle, taking the momentum away from them."
Rockhurst took four and a half minutes on its following drive, ending in an Aiden Ryan touchdown run that gave Rockhurst its winning margin of a 24-point difference.
"You can't complain about that," said Rockhurst Head Coach Kelly Donohoe. "We always tell our kids we expect perfection. We know we're not going to get it, but we want to keep striving for that."
It may not have been perfect, but Rockhurst wasn't far from it against Nixa, an undefeated team entering the game. The only blemishes for the defense were two touchdowns given up, both on Nixa's first drive of each half. After Nixa scored on its first drive with a 32-yard pass from Uber to Keivon Flint, Rockhurst appeared to be in for a battle.
Rockhurst returned fire with an 11-play, 45-yard drive leading to an 8-yard touchdown pass from Ethan Hansen to Mason Thunley. As Nixa began its next drive, Rockhurst defensive back Vince Jacoby came down with a momentum-changing interception. Running back Aiden Ryan would run for a touchdown two plays later, but the extra point was blocked, getting Rockhurst out to a 13-7 lead.
Later in the half, Nixa moved the ball to Rockhurst's 32-yard line with an efficient drive before Logan Kuechler would kill another Nixa drive and hand the Hawklets offense the momentum. Coppinger pushed his way into the end zone as fullback for a touchdown with three minutes left in the first half. Before the half ended, Ethan Hansen threw a screen pass to Aiden Ryan for the fourth touchdown of the first half.
Rockhurst maintained its lead through the second half, and just like that, Rockhurst is one of four teams left in Class 6 for the first time in the Kelly Donohoe era, led by a senior class that began at Rockhurst the same year as Donohoe.
"We came in with Coach Donohoe and this staff, and they've really shaped us. We all know that we want to do whatever it takes to win."
Next up, Rockhurst gets a rematch with the only team to defeat them this season, a Liberty North team that has been rolling through an undefeated season so far as just four teams remain in Class 6 playoffs.