Photo Credit: Clint Dye/Special to PrepsKC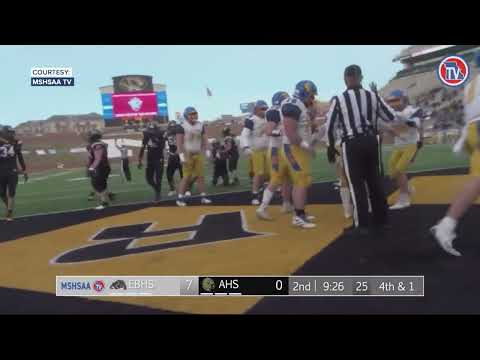 For the second year in a row the East Buchanan Bulldogs are the alpha dogs of Missouri Class 1 football after soundly defeating Adrian today, 42-0.
After a slow start in which their first two possessions ended in punts, the flood gates opened when junior running back Trevor Klein busted through the Adrian defense for a 42-yard touchdown run with just over three minutes left in the first quarter.
The touchdown run pushed last year's Class 1 Offensive Player of the Year over the 2,000 yard mark for the season and was just the start of a big day for number twenty.
On East Buchanan's next possession, Klein struck again, this time on a one yard run on a fourth down conversion for East Buchanan.
For the game, Klein carried the ball 18 times for 132 yards and three touchdowns. Klein also hauled in two catches for 60 yards with one score in the passing game.
Sophomore quarterback Gage Busby got in on the scoring barrage when he connected with junior Aidan Hensley for a 35-yard touchdown pass to extend the East Buchanan lead to 21-0.
Klein capped off the first half with a two-yard touchdown run.
After Klein's fourth and final score of the day early in the third quarter, the Bulldogs capped off their scoring for the day when Busby connected with senior Adam Stephen Engnes, who broke free from an Adrian tackle attempt to scurry 81 yards for the touchdown.
Busby finished the game with 312 yards passing on 14 of 19 completions with three touchdowns. His leading receiver was Engnes with four catches for 143 yards and the one score. Aidan Hensley had four catches for 57 yards with one score and senior Carson White had two catches for 35 yards.
The East Buchanan defense put an emphatic exclamation point on their dominant run with their fourth shutout of the postseason.
"Our defense had confidence coming into today that we were going to do this thing," said East Buchanan head coach Dan Ritter. "Hats off to those guys for putting in a great effort and capping this run off with another shutout."
The Bulldog defense held Adrian to just 136 yards of total offense and caused four turnovers en route to their second State Championship in a row.
Leading the defense was senior Rylee Parker with seven total tackles. Fellow senior Ethan Bailey finished with five total tackles and a sack for an eight-yard loss. Aidan Hensley hauled in two interceptions while Klein had one.
With the win East Buchanan finished the season 14-1 and are back-to-back Missouri Class 1 State Champions.