Photo Credit: Lori Habiger/Center Stage Photography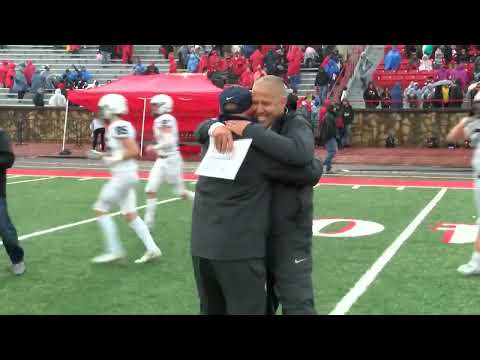 Make it a six-pack of state titles for Joel Applebee.
The Mill Valley head coach delivered his sixth Class 5A state championship in the last eight seasons with a 28-14 win over previously undefeated Maize in the championship game at Carnie Smith Stadium in Pittsburg. It was a rematch from last year's state championship when the Jaguars beat the Eagles 28-14.
"They're all special. They're all different senior classes that come through," said Applebee of his 30-member senior class. "We're gonna celebrate the heck out of this because the seniors deserve this. They've earned it."
Applebee's record in 13 seasons at Mill Valley is 115-36 with six Class 5A titles in six state appearances.
"I don't think any team has won four in a row (in Class 5A) to my knowledge," said senior quarterback Hayden Jay. "For this group of guys, this senior class, we've been playing together since, well, we call it Junior Jag Football. All the way back in kindergarten. We had this core group of guys, so to see them all grow and get to the biggest stage in your career and take care of business... it's unbelievable."
Jay passed for 189 yards and three touchdowns. Junior Tristan Baker rushed for a game-high 117 yards on 32 carries, and junior Davion Harris scored three touchdowns, including a huge momentum swinger just before halftime to give the Jaguars a 21-7 lead at the break.
"Now, that was huge. Obviously, we were looking to score. We had good field position (at their own 40 with 1:15 left in the second quarter). So, we went into our two-minute mode," said Applebee. "Hayden escaped the pressure and then just found Davion on the sideline. Davion did a great job of staying in-bounds. It was a great play. A huge play."
The Jaguars entered the state championship with the stingiest defense in the state and a very balanced offense. Both were on display from the opening kickoff. Maize only mustered 21 yards and one first down in the first quarter. Mill Valley took advantage of a short field, going 33 yards in seven plays to score the game's first touchdown on a tough 9-yard run by Harris.
The Maize offense, led by K-State commit Avery Johnson, finally found its rhythm on its fifth possession. Johnson capped off a 10-play, 85-yard drive with a 4-yard touchdown run to tie the game at 7-7. Johnson completed 14 of 24 passes for 130 yards and rushed for 71 yards and a touchdown.
It took Mill Valley less than two minutes to answer. Jay took the shotgun snap at his own 31 and fired deep to Preston Oliver, who caught the pass in stride and ran in for a 69-yard touchdown. Less than a minute later, Harris was in the endzone, and the Jags had all the momentum and a 21-7 halftime lead.
Mill Valley started the third quarter with the ball at their own 42. On third-and-goal from the 5, Jay dropped a pass into the hands of Harris in the endzone, and the Jags had a three-touchdown lead. Jay said passing the ball was part of the gameplan.
"We knew they were going to try to stop the run because we ran a lot on them last year. So, we put in a lot of play-action, and Davion just happened to be the guy that got most of the targets. He played out of his mind," said Jay.
"I thought our defense played a great game except for two big plays. And other than that, they played great defense, and they gave our offense opportunities to get on the field and get points," said Maize Head Coach Gary Guzman.
The Jaguars' dominant defense, which allowed 276 yards and two touchdowns, closed it out with an interception in the endzone by Michael Bergeron. Senior linebacker Broc Worcester led Mill Valley with 12 total tackles.
"Obviously, we wanted to collapse the pocket and pressure him (Johnson), and we have a great D-line. So, that really wasn't an issue for us. We knew if we just collapsed the pocket, he'd make some bad throws, and we ended up getting a pick there at the end," said Worcester.
"Avery Johnson is a once-in-a-lifetime player. He's a special player. Hats off to him on a great career," said Applebee. "When it comes to our defense, they prepare so well. They love everything about football. They eat it up every single day. I'd love to find a better defense. I'll be honest, we're a little biased, but I'd love to find a better one."