Photo Credit: Nick Smith/PrepsKC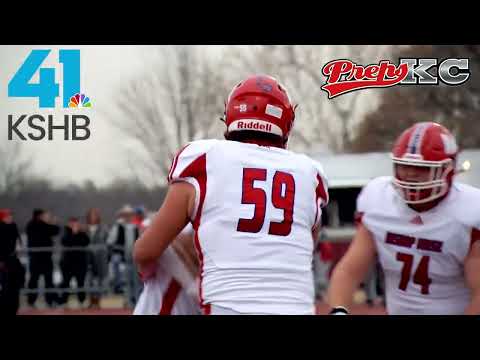 TOPEKA – Bishop Miege won its state-record 11th state football championship with a convincing 35-14 victory over the previously undefeated Wamego Red Raiders (12-1).
It was a complete team victory for the Stags (11-2) on Saturday afternoon in Topeka. Coming into the 4A State Championship contest, Wamego's defensive unit hadn't allowed more than 16 points in a single game all year, and Wamego's offense had averaged 42.3 points per game.
Bishop Miege senior quarterback Mac Armstrong flashed with 368 yards through the air and threw three touchdowns, including a 93-yard bomb to sophomore Teryn Jackson. Armstrong's ability to strike big passes in and out of the pocket played a big part in Bishop Miege leaving the capital city with the state championship trophy.
"(Wamego) made us bring it," Armstrong said. "Since May 30th, we've been talking about this right here. We knew we could be here. We knew we could win it. Number 14, Isaiah Coppage, he's a big-time player. After his first touchdown, (Wamego) tried to take him away when they topped him off with a safety. Teryn Jackson, Daegen Jensen and Tommy Wright come up big every time, making big plays over the middle. They had one-on-one coverage, and they made plays and won."
With an injury to star senior halfback DeAndre Beasley, the Stags were leaning on the production of junior David Garcia on Saturday. Garcia didn't disappoint with his 111 yards on the ground and two touchdowns.
"Our tempo got good, and David (Garcia) was able to make some big runs," Bishop Miege coach Jon Holmes said. "Charlie Vossen also came in and made big runs. Our starting running back (DeAndre) Beasley had an ankle injury from last week and couldn't get back on the field this week. Those two guys really grinded it out for us."
Bishop Miege's skill players, defensive and offensive linemen, brought the fight to Wamego. The Stags stunned the Red Raiders and gave Wamego its only loss in the 2022 campaign.
"These guys mean a lot to me; they're family," Wamego coach Weston Moody said. "(Wamego) laid it out on the line. They played hard, which I expected them to. It hurts losing your last game. The beauty of it is they've built this up to what it was. Seeing how many fans came out today and the excitement has been a whirlwind. It's been a great ride."
Although Bishop Miege pulled away in the second half, the battle-tested Stags had to fight off a pesky Wamego team for the first two quarters.
"We knew we were going to be tested by (Wamego)," Holmes said. "They had a great game plan. We had to make a couple of halftime adjustments, specifically on defense. Defensively, we held them in the second half and got some turnovers, and we were able to capitalize on those."
The Red Raiders' and Stags' defensive units were imposing in the first quarter. Bishop Miege and Wamego's defense came out of the gates extremely physical, pursued the ball with ease and made it a no-fly zone for offenses.
Bishop Miege's number one task? Stopping Army signee and star quarterback Hayden Oviatt from wreaking havoc on its defense.
"With our schedule, we play great running backs all the time," Holmes said. "(Oviatt) is another one of those. For us, we knew we were going to have to bring (Oviatt) down. If (Oviatt) got a big (run), bring him down, refocus and regroup. (Oviatt) is a really good player, and they had a really good scheme with him."
Although Oviatt had 224 yards on the ground, the Stags' always responded to his home runs with grand slams.
After Mac Armstrong threw a 19-yard lasering touchdown to Coppage, Oviatt responded with a 45-yard pass and 42-yard touchdown run immediately after near the middle of the second quarter.
Bishop Miege responded immediately in a big way in the second quarter. The Stags' clapped back with a 5-yard rushing touchdown from David Garcia and a 32-yard touchdown pass from Armstrong to Jensen.
Wamego would put together a long drive after Bishop Miege's third second-quarter touchdown. The Red Raiders' drive ended with Colin Donahue throwing a 10-yard dart to Hagan Johnson in the endzone.
Bishop Miege attempted to put together a two-minute drive to end the first half, but a Wyatt Burgess interception spoiled that in the endzone.
Bishop Miege would lead 21-14 at the halftime break.
Wamego came out of the break humming. The Red Raiders had a drive that lasted nearly eight minutes and had gone 81 yards in distance. However, the stellar Bishop Miege defense would force a fourth down stop at the Stags' 3-yard line.
After Wamego's long drive, Bishop Miege would have to put together a 97-yard drive for six points. After a 4-yard run, Armstrong found Jackson on a fade route that went 93 yards to the house. Jackson's 93-yard touchdown reception put Bishop Miege up by two touchdowns.
"Teryn Jackson opening up that third quarter with the long one was really big for us, and it loosened things up a bit," Holmes said. "In the first half, we thought we were going to be able to put a two-minute drive together, but we ended up turning it over, but we had some big plays there as well. Mac (Armstrong) was able to put it on the money a little bit to those guys."
Wamego couldn't get its offense going against a Bishop Miege defense that was pumped full of momentum. As a result, Bishop Miege would suppress Wamego's red-hot offense for the entire second half.
Bishop Miege would put the dagger down with a 17-yard Garcia rushing touchdown with 7:23 to go in the contest giving the Stags a 21-point lead.
Wamego wouldn't be able to add any more points on the board for the remainder of the quarter, and Bishop Miege would leave Hummer Sports Park with a 35-14 state championship victory.
"We had to battle from adversity," Armstrong said. "We lost games we didn't think we should've lost. We had some real tough matchups in the playoffs. People don't realize that those teams can really play. All respect to (Wamego) and they made us bring it. It was a heck of a game."