Photo Credit: David Smith/Special to PrepsKC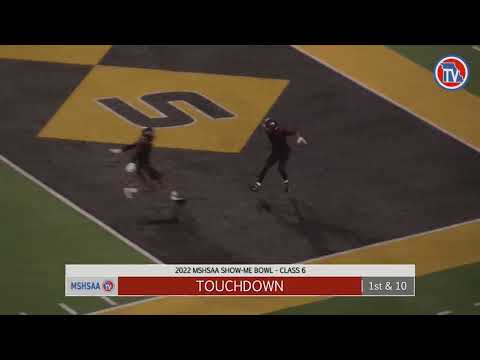 COLUMBIA – Step by step, Lee's Summit North climbed from nowhere to football prominence.
For most of its 27-year history, Lee' Summit North had known nothing but football futility. Then came a winning season. Some conference championships. A district title. On Saturday, the Broncos had just one more step to take.
And they came oh-so-close to making it.
Playing their first-ever state championship contest, Lee's Summit North fell to Christian Brothers College of St. Louis 35-28 in overtime in a wild and wooly showdown for the Class 6 title at Faurot Field.
"It was a great football game," Lee's Summit North coach Jamar Mozee said. "We had our opportunities but we just didn't do it."
This was a back-and-forth game that had everything – brilliant offense, solid defense – and a boatload of mistakes and penalties. North (12-2) rolled up 572 total yards of offense, an uncharacteristic 478 through the air. That's more than the 494 yards than CBC (12-1) tallied
But the penalties (15 for a whopping 216 yards; CBC had 16 for 132 yards) took their toll on the Broncos. Especially in the closing moments.
North clung to a 28-20 lead when quarterback Elijah Leonard had a pass picked off early in the fourth quarter for the game's first turnover. That led to a 7-yard touchdown run and a two-point conversion pass from CBC star Jeremiyah Love that tied the score 28-28.
When North cornerback Jamir Conn picked off a CBC pass with just over a minute to play, the Broncos suddenly were in business at midfield with about a minute to play. They marched downfield to the CBC 3 with six seconds left. With time running down, North tried a chipshot 19-yard field goal, that kicker Liam Kays pushed it right
But CBC was flagged for running into the kicker, and Kays got another chance. The Cadetes blocked it and sent the game into overtime.
Love, a senior and Notre Dame commit who tallied 219 rushing and 106 receiving yards, dashed in from 30 yards out on the second play in overtime for his fifth TD of the game. North's possession began with yet another holding penalty and ended with Leonard getting sacked and throwing two incompletions.
Things certainly didn't start well for North. The Broncos drove to the CBC 4-yard line on the game's first drive only to see the drive end with a missed field goal.
CBC needed only one play to answer, taking a 7-0 lead on an 80-yard toss from quarterback Cole McKey to Love.
But when Lee's Summit North turned from its bread-and-butter running game to take to the air, the Broncos quickly found success. North tied it 7-7 on tight end Zavian Lindsey's first TD catch, a 27-yard tackle-breaking run late in the first quarter. Lindsey (120 yards, two touchdowns), Isaiah Mozee (12 catches for 150 yards and a TD) and Yasir Winston (102 yards) accounted for most of the air yardage.
"That was the plan coming in," Mozee said. "There were some things that we saw on tape that we thought we could take advantage of. "I went to our (offensive coordinators) when we game planned and I very seldom ever tell them to throw the ball. But I thought we could have success throwing the ball in this game and we did."
Lindsey's second snag, on a 49-yard toss from quarterback Maxxwell Ford, put North ahead for the first time 14-7. CBC tied it again on a 4-yard McKey to Love TD pass. And North went back on top three plays later on a 60-yard TD toss from Leonard to another tight end, Zackary Coetzee.
CBC struck again on an 89-yard bomb from McKee to Love, but the Cadets missed the extra point and trailed 21-20 with 1:46 left in the half.
But North still had enough time to strike again. With 4 seconds left, Leonard scrambles and found Isaiah in the right corner of the end zone for a 28-20 halftime lead.
And after a stalemate third quarter in which both teams had drives end on downs, that first title seemed in North's reach. Instead, it was CBC, which beat the Broncos in last year's Class 6 semifinals, celebrating its second consecutive state title and fourth in six years.
A level of success Lee's Summit North keeps getting closer and closer to achieving.
"We were real high not just on being here, we wanted to win," Mozee said. "A lot of people were asking questions like are you excited to be the first (state finalist) in history an yeah we are, don't get me wrong. But we really wanted to win this football game."