Photo Credit: Justin Flor/PrepsKC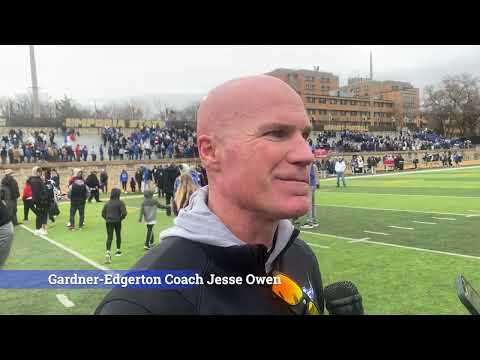 EMPORIA — Gardner-Edgerton football coach Jesse Owen has a ton of belief in his team, and he showed it on the biggest stage on Saturday in the Trailblazers' 21-20 double-overtime loss to Manhattan in the Class 6A state at Emporia State's Welch Stadium.
With the Trailblazers trailing by one in double overtime following Dawson Kindler's third touchdown run, Owen elected to go for a 2-point conversion rather than kick a PAT and force a third overtime. Dylan Butash made a last-second lunge toward the pylon, but Manhattan set the edge well and forced him out of bounds to cap a 13-0 season for the Indians.
"The situation was to go for 2 and win the game," Owen said. "We wanted to get a walk-off there, but they defended it just a little better than we executed."
The Trailblazers (9-4) jumped out to leads of 7-0 and 14-7, but the score was knotted at 14-14 at the end of regulation. Gardner-Edgerton got the ball to begin the first overtime, and Owen had another opportunity to show his belief in his team. With a 4th and goal from the 2-yard line, Owen had a big choice to make—go for it or kick a 19-yard field goal. The Trailblazers went for it, but Butash was hit in the backfield. That meant all Manhattan needed was a field goal to win it.
"I feel like with this overtime format, you need touchdowns. With our offense and what we do with our identity, in short yardage situations, we go for it regardless of where we're at on the field for the most part," Owen said. "We came here to win, and it was overtime. We were going to be aggressive."
Along with believing in his offense to get the 2 yards, Owen had a lot of faith in the Trailblazer defense to come up with a stop on Manhattan's possession of overtime. The Indians went backyard with two total yards in the next three plays to set up a 29-yard field goal attempt to win it. Braxton Frey's game-winning try sailed wide right, though, giving the Trailblazers a second chance.
After the Trailblazers and Indians switched sides of the field, Manhattan got the ball first to begin the second overtime. Gardner-Edgerton nearly stone-walled Manhattan at the goal line, but Jason Sanchez punched it in from 2 yards out to give the Indians their first lead. Frey's PAT was good to put Manhattan up 21-14.
Manhattan had to fight for every yard against Gardner-Edgerton's stout defensive front. Andrew Kamtio and Therron Meade each recorded double digit tackles with 11 and 10, respectively. Kaleb Green also corralled an interception in the fourth quarter to halt a Manhattan drive that had reached the Gardner-Edgerton 13-yard line. However, Gardner-Edgerton quarterback Bravin Powell fumbled on the next play to give it right back to Manhattan. Fumbles were a thorn in the Trailblazers' side, as they coughed it up six times and lost three of them.
The Indians were in prime position at the Gardner-Edgerton 20-yard line, but the Trailblazer defense didn't back down. The Trailblazers stuffed Manhattan quarterback Keenan Schartz on 4th and goal from the 1-yard line and still held a 14-7 lead with 7:20 to go.
"This is one of the best defenses that I've been around as a high school coach. The guys are physical, discipline and unselfish," Owen said. "They just play well together. The amount of goal line stands and takeaways we had this year, especially inside the red zone, is as many as I can remember in 20 years. They're just a tough bunch."
The Trailblazers weren't able to get off their own goal line, though, on the ensuing possession. The Indians took advantage of the short field this time when Sanchez found paydirt on a 9-yard run to finish off a 23-yard scoring drive. The score remained 14-14 for the rest of regulation.
Kindler paced the Gardner-Edgerton offense with 39 carries for 124 yards and three touchdowns. Schartz led the way for the Indians—rushing for 90 yards and 25 totes and completing 14 of 22 passes for 157 yards and one touchdown and one interception. His touchdown pass was a 19-yard strike to Jaxon Bowles with 2:43 to go in the first half. The Manhattan touchdown answered Gardner-Edgerton's first score, which was on a 1-yard run from Kindler. The Trailblazers and Indians went into the half tied at 7-7.
While the double-overtime loss was a tough pill to swallow for the Trailblazers, it was still one of the most historic seasons in school history. After going 4-6 last year, the Trailblazers made their second state title game appearance in school history this year. It was the Trailblazers first time reaching the 6A state title game.
"I'm just extremely proud of their grit and unselfishness. This is a tough one," Owen said. "Sometimes you lose. Losing is a part of life, but that doesn't mean you're a loser. Losers make excuses and aren't accountable, but our guys are far from that. I told them that the community and school is extremely proud of them. They've made people proud and they exceeded expectations just by being here. There's nothing to be ashamed about even though that's a tough way to go down."