Photo Credit: David Smith/Special to PrepsKC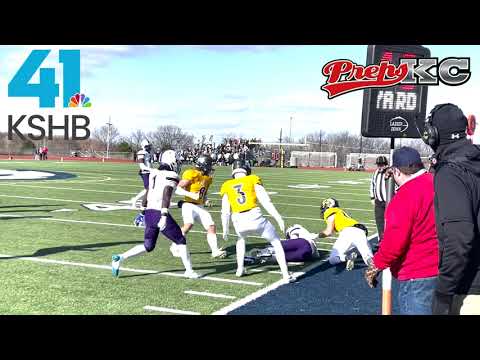 The Liberty North defense has spent the season dominating week after week. They were only allowing an average of just over eight points per game on the season and hadn't allowed more than 14 points in a game.
Something had to give during Saturday's Class 6 state semifinal game against CBC who came in averaging nearly 48 points per game. For a half, the Eagle defense held their own, holding a 14-12 lead.
But the script flipped in the second half.
The Cadet offense – specifically the run game – started to roll, scoring touchdowns on their first five possessions of the half to earn a 46-21 victory and a shot at a second straight state championship next Saturday against Lee's Summit North.
"They hit us on a couple of things," Eagles head coach Andy Lierman said. "They're obviously very talented. You give them an inch; they'll take a mile. We over-pursued on some plays and they're so athletic, they're going to make you pay."
The Cadets flashed their elite athleticism, along with a plethora of weapons to cause problems. The second half showcased what has made them so dangerous. Four different players scored touchdowns and they only threw one pass in the final 24 minutes.
Lierman was left shaking his head afterward.
"The run game is what I don't quite understand," Lierman said about the defense. "Credit to them, but I just don't have answers right now."
Added linebacker Melvin Laster, "I feel like we started to play scared. We weren't getting in our gaps and weren't playing like we should or how we have been."
The only pass of the half was a 34-yard wide receiver screen to Jeremiah McClellan, and he finished the drive two plays later with a 3-yard touchdown run to make it 18-14 after the two-point conversion failed.
After a Liberty North punt, Notre Dame commit Jeremiyah Love scooted out to the edge, outran the defense, and then made a cutback for a 39-yard touchdown run and a 25-14 lead.
The Eagle offense went three-and-out and the Cadets struck again. This time it was Dylan Van from a yard out for a 32-14 lead. After another Liberty North punt, Ralph Dixon was the fourth Cadet to score in the second half, as he took the first play of the fourth quarter for a 38-yard run and a 39-14 lead.
"It makes it really tough," Laster said of the multiple weapons the Cadets throw at you. "You have to key on multiple players. It's very difficult."
Added Lierman, "Their athletes are tough and they're big up front. You're unable to defend all of it."
Liberty North tried to make a late comeback, as they struck quickly on a 58-yard touchdown pass to Jay Ross, but CBC responded with a 6-plus minute drive that Love capped with a 9-yard score.
The Eagle offense had a pair of big plays in the first half that led to touchdowns but had trouble moving the ball in the second half. They had only two first downs on their first four drives and quarterback Sam Van Dyne was consistently under pressure.
"We made some mistakes and got in some long down-and-distance situations," Lierman said. "They did some different things coverage-wise. We just didn't get the ball out."
The loss was the first of the season for the Eagles, as they finished the season 12-1 and a game away from a second straight berth in the state championship game.
Lierman – his first year as a head coach – had nothing but praise for the senior class and what they've done for the program, including three straight district titles.
"They've turned this program and culture into what we wanted it to be," Lierman said. "It's an incredible group of young men. We're a close group. You spend a lot of time with them. …I'm fortunate to be their coach. People wondered if we could keep it going and we proved we could."