Photo Credit: Roman Puno/PrepsKC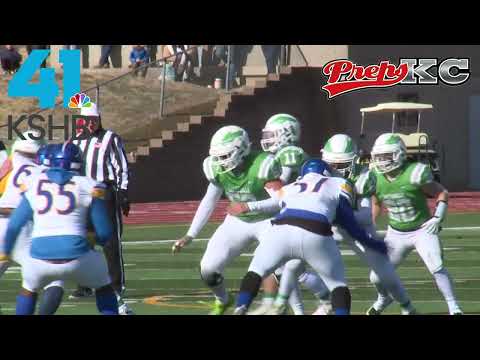 Center was on fire.
The Yellowjackets were averaging a gaudy 50.7 points per game coming into their Class 4 quarterfinal game against Smithville.
They dominated everyone they faced in their 11 games, winning by an average of 36.6 points per contest. However, Center didn't play a defense quite like what the Warriors have.
Smithville allowed just 6.7 points per game and had five shutouts before Saturday's game. Its elite-level defense continued as the Warriors held the Yellowjackets to just 104 yards of total offense in a 20-0 shutout at home.
"We just got outplayed and outcoached today," Center head coach Bryan Delong said. "They scouted us well and read their keys. Their defense was definitely as advertised."
Center even had drives which started at the Smithville 25- and 35-yard line and could not find the end zone. The first time came with 1:35 left in the first half after Devean Frazier blocked a punt from quarterback Andrew Hedgecorth, setting up the team at the 25.
It made it to the Smithville 9 but the drive stalled following a false start that made it fourth-and-10 and an incomplete pass from Joseph Vick resulted in a turnover on downs.
The second ended up in a disaster when Center had it at the opponent's 35. A holding call and sacks from seniors Trisan Henshaw and Kevin Pylypczuk, which pushed the Yellowjackets all the way back to their own 35. After a 16-yard run from Jacorey Love on third-and-36, Center punted.
"Our defense has been lights out all year," Smithville head coach Jason Ambroson said. "We struggled early in the year because we were trying to figure out what we were doing. We had some new guys in new roles. But down the stretch, they've played very well."
In total, the Warriors (12-1) had five sacks, led by Henshaw's two.
"We love being out on the field and feeding off each other," Henshaw said. "We play good offenses all the time. We just come out and have fun."
Of course, the defensive support was more than enough for the offense to help Smithville get the win. On that side of the ball, it was the Caleb Donnell show, who had 27 carries for 150 yards and three touchdowns.
His first score was set up when the Warriors converted on a fourth-and-4 from the Center 11-yard line when a pre-snap motion in the backfield got Pylypczuk open in the flat as he picked up four yards for the first down. Donnell then punched one in on a run up the middle from three yards out to make it 7-0 last in the first period.
That score held until the 1:11 mark in the third quarter when the Warriors converted on another key fourth down. Hedgecorth picked up the first down on a 4-yard run in the red zone. Donnell later broke two tackles for another 7-yard TD run to make it 14-0.
Donnell put the game away with 3:48 left when he went in from 11 yard out untouched.
"I feel like we started out the game a little slow and a little bit timid," Donnell said. "But as time progressed, the offense really did all the work up front. They were communicating and were letting me get all the credit when the credit should be going to them."
Smithville will not turn its attention to St. Mary's (St. Louis) as those teams will play in the semifinals Saturday at Smithville High School.