Photo Credit: Riley McCabe/PrepsKC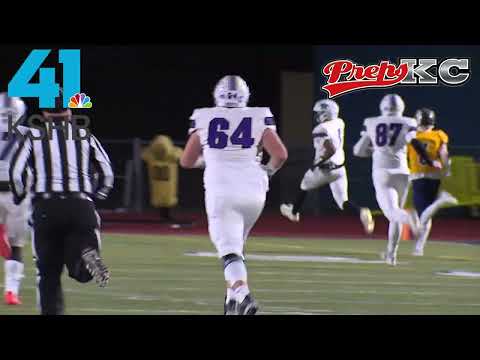 Liberty North made big plays when it needed them most as they remained perfect on the season, beating Park Hill South 34-7 to claim the district championship on Friday night.
The game turned in the third quarter.
Leading by seven, the Eagles scored 14 points in just over two minutes and never looked back.
A 24-yard pass from Sam Van Dyne to Jay Ross pushed the lead to 21-7.
The Eagles caught South off-guard with an onside kick, and North recovered.
Van Dyne ran for his second score, and it was 28-7 with 6:36 left in the third.
"We had the touchdown, then the onside kick which was a huge momentum swing, scored again and it was on from there," Liberty North head coach Andy Lierman said. "We planned a couple different kicks in case we needed them, and we've worked on them all year. It just so happened that was the opportune time and the kids executed."
The Eagles (12-0) added two field goals from senior Blake Craig, including a 55-yarder, in the fourth quarter.
"They (South) hung around and played hard, we knew they would," Lierman said. "We knew it was going to be hard, it should be, it's a district championship game."
North put-up points on its first drive of the game.
Van Dyne's third-down scramble for 14 yards and a touchdown made it 7-0 at 5:42 of the first quarter.
The Eagles' defense grabbed back-to-back interceptions but could not convert either into points.
South found the equalizer in the opening minute of the second quarter.
An 80-yard touchdown run by Darrien Jones tied the game.
The Panthers defense came up with a goal line stand with 6:55 left in the half.
But, on the ensuing possession South's punt was blocked by the Eagles by Ross and recovered in the end zone to make it 14-7 North at halftime.
"Three weeks in a row we've had to play someone we've already played," Lierman said. "It's tough to beat teams twice at any level. I'm super proud of our kids and the way they came out and played."
North finished the game with 371 yards on offense, including 161 rushing yards from Hayden Davidson, while their defense came up with four turnovers, three of which were interceptions.
In a rematch of last year's state championship, the Eagles will face Christian Brothers (CBC) in the Class 6 semifinals next Saturday in Liberty.
CBC won that game 48-21.
"We're excited to be at home, and we know they're a great team," Lierman said. "I haven't seen a ton of film yet, but I know they're good. It's going to be a great game and should be a lot of fun."