Photo Credit: Roman Puno/PrepsKC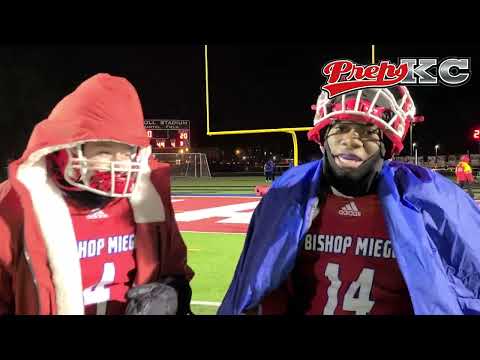 Bishop Miege wideouts Isaiah Coppage and Teryn Jackson are talented pass catchers. The duo put on a show against Piper.
Wide receiver Tommy Wright is also a big-play threat for the Stags as is tight end Daegan Jensen. Add into the offensive mix running backs David Garcia and DeAndre Beasley, and Miege quarterback Mac Armstrong has an array of weapons at his disposal.
With a stout offensive line paving the way, it's easy to see why Miege ran by Piper on Friday at Miege. Shortly after the Stags' 68-20 win, Armstrong was asked which Miege receiver was his favorite target. The senior single caller played coy.
"I can't answer that," he said.
Coppage stepped in for his quarterback.
"All of us are weapons," Coppage said.
With the win, Miege improved to 9-2 and advanced in the Kansas 4A state playoffs to face Eastern Kansas League champion St. Thomas Aquinas. The Saints, 9-2, downed the Stags 29-26 in Week 6 and were 28-13 victors Friday over St. James Academy, which avenged the Saints' Week 4 regular season setback against the Thunder.
"It's going to be a big week for us," Miege head coach Jon Holmes said. "We get to play the game at home. I know our guys will be excited for that."
Piper is an excellent team. The Pirates started well enough against Miege, but the Stags were too explosive for the visitors to keep up.
"Our guys fought," Piper head coach John Black said.
Miege jumped out to leads of 7-0 and 14-6 in the first quarter. The Pirates came to play and traded blows with the host Stags for the first 12 minutes of the game. But high school football is a 48-minute game, and Miege dominated from the second quarter on.
Garcia broke more tackles than ankles as he powered his way to a first quarter score. A blocked punt set up a short TD pass from Armstrong to Jensen, and just like that, Miege led 21-6 less than a minute into the second quarter.
On the next possession, Miege forced a fumble and recovered at the Piper 36. The Stags' Coppage displayed his considerable talent on the next drive, a short two-play possession that began with a nifty run on a reverse and an acrobatic grab in the end zone for a touchdown. In a word, it was heck of a catch.
"Thank you," Coppage told a well-wisher after the reception. Miege led 27-6. After another punt, Jackson went to work, first making a diving catch on a 36-yard reception and scoring on a slant pattern into the endzone to put Miege in front 34-6.
Piper's Logan Ladish scored on a QB keeper with 2:05 left in the second quarter but the extra point kick was blocked. Piper left more than enough time for Jackson to shake and bake his way 34 yards for another TD catch. to push the Stags in front 40-12.
Ladish scored again for Piper on the first drive of the second half and converted a two-point conversion to cut its deficit in half three minutes into the third quarter.
Coppage followed with a 46-yard pitch and catch for a score. The dynamic senior added a little jelly at the end of his TD, much to the delight of the Miege faithful.
Beasley scored in the third, as did defensive back PJ McCallop on a 50-yard pick-6 on a fake punt attempt. The score led to a mercy rule running clock to begin the fourth quarter. Garcia capped scoring for the Stags late in the fourth with a rushing touchdown.