Welcome to Five From Friday our weekly feature that highlights some of the best quotes, notes, stats and performances of the games Friday night.
Quote of the night
"We know we can play with anybody. It's all about heart. …We just never gave up. Props to the O-line. They played their butts off." Park Hill senior quarterback Kendrick said Bell, who finished with 357 yards passing, 90 rushing, as well as having a hand in five touchdowns in the Trojans 49-42 win at Rockhurst.
Stat line of the night
Antonio Harrison, running back, Sumner – The senior did it all in the Sabres back and forth 47-42 win over Topeka West. He ran for 422 yards on 37 carries and scored all 7 touchdowns. His yardage total set a school record leading Sumner to its first playoff win since 2010.
Call/Highlight of the night
Shawnee Mission Northwest's Malik O'Atis had another big night. The senior went over 2,000 yards for the season and mixed in another long TD run. Spectrum Sports Kevin Wike was on the call.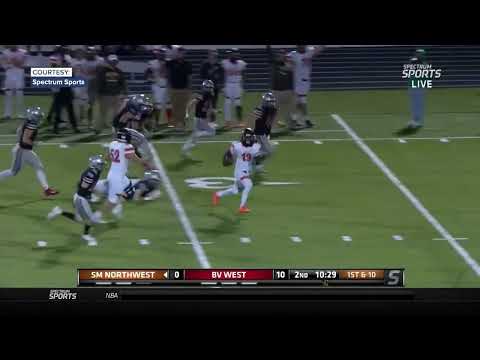 Team of the night
Raymore-Peculiar – The Panthers were coming off a loss to Blue Springs in the last week of the regular season and had to go on the road to Joplin to play a ranked Eagles team. Ray-Pec jumped all over Joplin early on its way to a 56-42 win to keep their season alive.
Big Winner
Clinton – The Cardinals have struggled the last few years and last year didn't play varsity football. Clinton ended a four-year losing streak during the regular season and defeated Buffalo 37-34 Friday night to earn its first postseason win since 2016.