Photo Credit: Jeff Stead/PrepsKC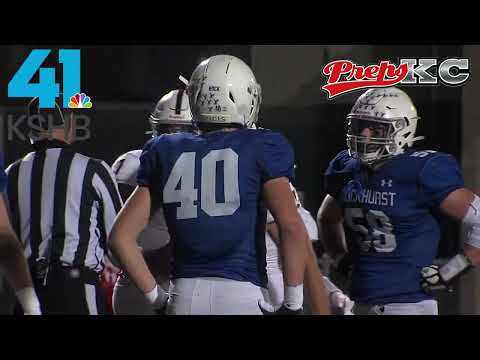 Close games have had a way of finding Park Hill this season, and it hasn't typically ended well for the Trojans. They've played five one-score games this season and have a 1-4 record, including two losses by a single point.
So, it was no surprise that here they were Friday night, opening round of the playoffs, on the road locked in a tight battle at Rockhurst.
"We had to lock in that last minute," Trojan quarterback Kendrick Bell said. "We fumbled the bag last week (against Lee's Summit North) with a bad offensive possession."
Bell wasn't going to let that happen again.
The University of Michigan commit capped off a stellar performance by leading an 11-play, 87-yard scoring drive in the final minutes for a thrilling 49-42 win.
"We know we can play with anybody," said Bell, who finished with 357 yards passing, 90 rushing, as well as having a hand in five touchdowns. "It's all about heart. …We just never gave up. Props to the O-line. They played their butts off."
Trojan head coach Andy Sims praised his team for their resolve during what has been a challenging season.
"It's so hard on these kids," Sims said of all the close losses. "You'd almost rather get beat by 50. That's easier to take. It takes its toll. This is a great testament to these boys."
Bell was the one leading the way. He had two impressive third-down conversions on the final drive. One came on third-and-six, as he rolled to his right, saw nobody open, and ran all the way back to his left for an 11-yard gain.
Three plays later, after a holding penalty put the Trojans in a tough spot, they faced third-and-13. Bell once again rolled to his right and waited patiently for someone to get open, eventually firing a bullet right on the money to Bryce Lisaka for 13 yards.
"Some things didn't go our way," Sims said of the final drive. "We had a holding call that backed us up. He (Bell) stayed calm, cool, and collected. You have to be built to do that or you can't play the position. I've been the most proud of his maturation the last two years. This is a tough offense to learn. It takes mental toughness. Those drives there, that's the type of guy you have to have."
Bell and Lisaka hooked up again five plays later for the game-winning score. With less than 30 seconds to play and no timeouts, Bell zipped a pass over the middle to Lisaka who made the first defender miss and then found the end zone for a 34-yard touchdown and the lead.
"Ballers," Bell said of the play. "We come up with big plays. I saw him, and I knew if he makes a guy miss, he's gone. He did the work. I just had to get him the ball."
"We knew it would be open," said Lisaka, who also had an interception, two forced fumbles and a fumble recovery on defense. "The stars aligned. …With our offense, we always play with confidence."
If Bell hadn't already done enough, he also was in on defense for Rockhurst's Hail Mary attempt on the final play of the game, which he intercepted.
"I knew if it came my way, people in blue weren't getting it," Bell said.
The game was nip-and-tuck throughout, with neither team ever holding more than a one score lead. The two teams traded touchdowns in the first half. Rockhurst scored with 1 second left before halftime to make it 28-all, and then they scored out of halftime to take a 35-28 lead.
Park Hill would eventually tie it up before Rockhurst took a 42-35 lead after a 3-yard touchdown pass from Ethan Hansen to Tommy Coppinger on fourth down early in the fourth quarter.
Bell and the Trojan offense responded again to make it 42-all, leading the way for the biggest stop of the night by the Park Hill defense. After an initial first down, Rockhurst was forced to punt after a pass fell incomplete on third-and-nine.
"We got the key stop when it mattered most," Sims said. "That can only build confidence. We have a young defense, but they're getting better each week."
The loss ended Rockhurst's season at 5-5. Meanwhile, Park Hill marches on and will host rival Park Hill South next Friday night.
"I think we're overlooked with our record," Lisaka said. "We're a very good 3-7 team. We're underdogs, and we have to prove ourselves."