Photo Credit: Nick Smith/PrepsKC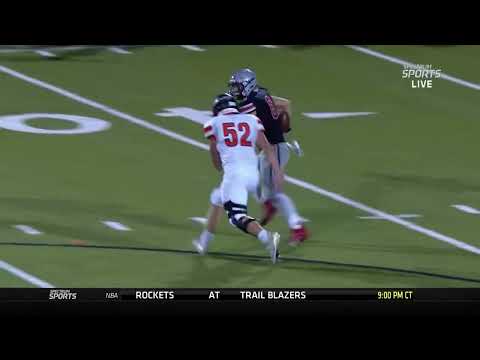 Blue Valley West quarterback Zach Darche closed the first half with a 70-yard pick six before opening the third quarter with a 66-yard scoring strike to Lake Ryan to help the Jaguars open up a 31-7 advantage in Friday's first round KSHSAA Class 6A State Football Playoff win over Shawnee Mission Northwest.
As it turned out, Josh Koerkenmeier's club needed every bit of that scoring explosion – that took all of 79-seconds over two quarters – to maintain its lead. Eventually, Blue Valley West tacked on a pair of fourth quarter touchdowns and pulled away for good, 52-28.
"Any time you win a playoff game, it's a big win," Koerkenmeier said following the contest. "I'm really happy for our kids and proud of how they responded. We've had some bad finishes a couple of weeks in a row and for them to come out and believe in each other and play the way they did tonight – that's pretty special."
Blue Valley West scored the opening quarter's only points when Darche raced to paydirt from nine yards out just four and a half minutes into the contest. John Michael Pujado helped the Jaguars to a 10-0 advantage when he drilled a 28-yard field goal 13-seconds into the second quarter.
Shawnee Mission Northwest got on the scoreboard when senior running back Malik O'Atis scored on a one-yard run 84-seconds later. Jaguar running back Sage Huffman then answered with a one-yard scoring plunge of his own before Darche's pick six.
Following the Darche–Ryan hooked up early in the second half, O'Atis scored from seven yards out. Darche and Josh Kidd hooked up for a 19-yard scoring strike before O'Atis and Shawnee Mission Northwest signal caller Logan Morley scored from one and three yards out respectively to pull within 38-28 after three quarters.
Darche found Jack Schneider open from four yards out with 4:13 left in the contest before Gabe Jenks scooped up a Cougar fumble and raced 27 yards to put the game away on the game's next play.
Blue Valley West won the turnover battle 5-0 in the 24-point triumph that sends the Jaguars into a Regional round playoff game against Olathe North next Friday. Pujado picked off a couple of aerials while Tate Nagy and Darche each had one. Jenks recovered the fumble.
"The back end of our defense, they're a talented group of kids and they've been playing really well," Koerkenmeier said. "That's a tough position to play when you're playing a team that spreads you out out of a lot of different formations. Our defensive coaches did a great job in getting them ready to go. They made some plays tonight."
Sage Huffman rambled for 110 yards and a score on 18 carries and caught three passes for 38 yards for Blue Valley West. O'Atis, on the other hand, ran for 182 yards and three touchdowns on 28 carries.
Morley completed eight of 21 passes for 116 yards for Bo Black's club while Daisean Bennett and Clayton Habben reeled in three aerials each for 44 and 42 yards respectively. Darche was true on eight of 12 passes for 164 yards and three scores while Nagy completed nine of 12 strikes for 138 yards. Jack Schneider caught six footballs for 132 yards and a score for Blue Valley West.
Ryan and Nagy led the Jaguar defense with five tackles each while five different Jaguar defenders registered a tackle for loss. Adam Hageman led all defenders for the Cougars with seven stops.
Blue Valley West ran 58 plays while chalking up 474 yards of offense. The Cougars, meanwhile, produced 308 yards on 60 plays. Shawnee Mission Northwest ran for 190 yards on 37 carries and scored four times on the ground while Blue Valley West chalked up 172 yards on 33 carries.
Shawnee Mission Northwest finishes the season at 3-6 while Blue Valley West carries a 4-5 record into its battle with 9-0 Olathe North.
"That is a great football program," Koerkenmeier said of the Eagles. "We tell our guys we're 0-0. Right now we're 1-0. We're going to enjoy that for a couple of hours and then we're going to get back to 0-0 and try to figure Olathe North out tomorrow.
"Any time you win a playoff game, you have to enjoy it. And I hope our kids enjoy it. We'll get our mind right tomorrow and go play Olathe North."