Photo Credit: Nick Smith/PrepsKC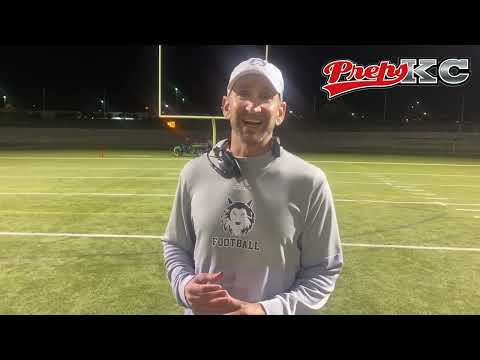 The seniors on the Blue Valley Northwest football team have already been a part of school history by winning the first Class 6A state title in school history in 2021, but they feel like there's quite a bit more to be added to their story. Those seniors wrote another memorable chapter to their BVNW football experience on Friday night with a 28-21 win on senior night over Bishop Miege.
"We had a little bit of an emotional moment before the game and before we came down to the stadium. These guys mean a lot to me and this program," Blue Valley Northwest coach Clint Rider said. "They've given a lot to this program, and this was their night. They went out and made it kind of a legacy game for them to finish off the regular season."
BVNW built a 21-0 halftime lead only to see the Stags tie it all up with 9:46 to go. The Huskies weathered the storm, though, and took the lead for good with 23 seconds remaining when senior Connor White connected with senior Grant Stubblefield on a 9-yard touchdown pass.
"I saw Payton (Atchley) and Gavin (Hoffman) run their men off and knew that there was going to be nobody out there with me. It was a pretty easy touchdown," Stubblefield said. "It was a really good play call. Shoutout to Coach Rider for that."
The touchdown reception was one of three total scores for Stubblefield, who rushed for 198 yards and two touchdowns on 34 totes. The standout running back set the tone for the Huskies by racking up 59 yards on eight carries on their opening drive. Stubblefield finished the drive with a 14-yard touchdown run.
"We got our run game going really early and kept them on their toes," Stubblefield said. "We gave our defense a little room to make a few errors, but not too many. We gave them some room to breathe. Getting some points up on the board early was really good for us."
Any fans that left for the concession stands or restrooms might have felt like they were watching a replay of Stubblefield's first touchdown when they returned a couple minutes later. After Stubblefield's first touchdown, the Huskies pooch kicked it just shy of the Miege 20-yard line. The ball bounced just inside of the 15-yard and wasn't touched by a Miege player, which meant that the Huskies could pounce on it and take possession. They did exactly that and took over at the Miege 14-yard line.
On the very next play, Stubblefield burst up the middle again for his second touchdown run.
"The eyes that Grant commands from a defense just opens up so many other things. Our offensive line did a great job," Rider said. "They were slanting a lot and our guys did a good job of picking that up, especially in the first half."
After the Huskies forced the Stags to go three-and-out on their first possession, they marched into Miege territory looking to take a three-score lead. Miege senior defensive back Aidan Wing had other ideas, though. Wing picked off White to give the Stags a much-needed boost.
The Miege offense couldn't capitalize then on the Wing interception, but the Stags still had a chance to double dip by scoring right before half and then getting the ball to begin the second half. The Stags had the ball around midfield with less than a minute to go before the break when BVNW senior defensive end Aidan Behymer picked off Mac Armstrong's screen pass and returned it to the Miege 24-yard line.
The Huskies cashed in on the Behymer interception when White threw a 2-yard touchdown pass to Atchley with 9 seconds left before half.
While the Huskies went into the locker room full of confidence, they also knew that the Stags weren't going to go quietly. And they didn't.
Armstrong threw touchdown passes to Daegan Jensen and Hollis Moeller in the third quarter to make it a one-score game. Jensen hauled in a 19-yard strike from Moeller for one of his five receptions. Moeller then hauled in a 12-yard pass from Armstrong to cut the deficit to 21-14.
The Stags also got their running game going in the second half. Senior running back DeAndre Beasley paced Miege with 19 carries for 109 yards. Beasley's 3-yard touchdown run knotted the game up at 21-21.
The Miege defense also stepped up its game in the second half to get the Stags back in it. The Stags forced a BVNW three-and-out after Beasley's touchdown and had the ball at their own 49 following a short punt. Behymer wasn't about to let the Stags spoil his senior night, though. The senior defensive end had his first of two fourth quarter sacks to put the Stags well behind the sticks.
"Aidan is a dude. He's one of our top guys," Rider said. "He's been doing a really good job of getting pressure lately. I see him after practice and before games working on his stunts. He's just such a big spark for us. You can always count on him to make big plays."
Miege went on to have a three-and-out of its own, but Jensen pinned the Huskies deep with a punt to the BVNW 2-yard line. A 16-yard run by Stubblefield and 36-yard reception by senior receiver Jashon White quickly got the Huskies off their own goal line. BVNW tried to take the lead with 1:59 to go on a 52-yard field goal attempt by Trace Rudd, but it came up short.
On the next play, Behymer stepped into the spotlight again with his second sack. Fellow senior Trey Ridley then came up with an interception three plays later with 1:02 to at the Miege 31-yard line. The interception set the table for White's game-winning touchdown pass to Stubblefield.
"Trey has been a stalwart for us," Rider said. "He's a great communicator and great leader. He made a great play at the end there to give us a chance to go finish it."
The win for the Huskies brought their record to 5-3 to close out the regular season. The Stags finished the regular season at 6-2.