Welcome to Five From Friday our weekly feature that highlights some of the best quotes, notes, stats and performances of the games Friday night.
Quote of the night
"This win was just amazing, absolutely what we needed. We've had a couple of heart-breaking losses where we were almost there. We just put it all together and put on a show tonight." – Park Hill South's Briggs Bartosh after his team's 49-23 win over Platte County.
Stat line of the night
Malik O'Atis, running back, Shawnee Mission Northwest – The senior was pressed into being a wildcat quarterback and turned in 39 carries for 403 yards and 3 TDs in the Cougars 38-28 win over Shawnee Mission East.
Call/Highlight of the night
Center took its perfect 7-0 record to Pleasant Hill where the Roosters were also 7-0. The Yellowjackets led 19-7 and had first and goal at the Pleasant Hill 8-yard line. Three plays later it was fourth and goal from the 23. Field goal time? Not quite as Center dipped into its bag of tricks. Kevin Wike and Spectrum Sports were there to capture the play.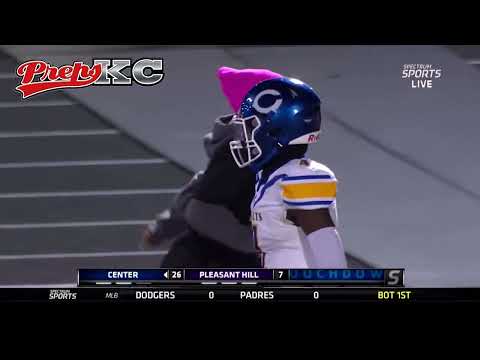 Team of the night
East Buchanan – The Bulldogs took out Mid Buchanan 48-12 to lock down the KCI title and likely secure a No. 1 seed in the district. East Buchanan won a state title last year but that accomplishment came with a runner-up finish in the league and No. 2 seed. Those two can be crossed off the list this season.
Big Winner
Bishop Ward – The Cyclones beat Baldwin 26-6 to move to 5-2 on the season. The win guarantees Bishop Ward's first winning season since 2009 and a second straight postseason appearance. It's quite a turnaround from a program that didn't win a game for five straight seasons.