Photo Credit: David Rainey/The Examiner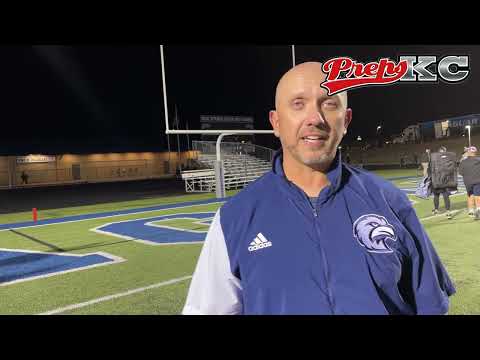 Liberty North made quick work of Blue Springs South on Friday at Larry Stewart Memorial Stadium on Friday.
The Eagles (7-0), jumped out to an early lead and never looked back, as they scored 28 points in the first quarter, enroute to an impressive 41-7 over the Jaguars.
Liberty North set the tone early on defense, Kaden Durso intercepted Blue Springs South quarterback Cash Parker on the second play of the game, returning it 35-yards to give the Eagles an early 7-0 lead.
"I saw his (Parker's) eyes and just read it," Durso said of his interception to start the game.
Things went from bad to worse for South on its ensuing possession as Jack Brickhouse muffed the snap on a punt, which gave Liberty North prime field position at the 16-yard line of Blue Springs South.
The Eagles needed only one play to score as MicahJo Barnett knifed his way through the Jaguar defense for a 16-yard touchdown that gave Liberty North a 14-0 lead — a lead they'd never relinquish.
"What a great tone it set for the whole game," Liberty North coach Andy Lierman said. "The guys came out and they executed. We feel like if we can get a fast start (on offense), (we have confidence) our defense will give us a little bit of an advantage right now."
To Lierman's point, South was never able to get its offense started. The Eagles' front seven bottled up the Jaguars' rushing attack and forced Parker into tough situations on third-and-long, forcing him to rush his passes and overthrow open receivers.
Liberty North's final two touchdowns in the first quarter came from an electric duo in Sam Van Dyne and Xavier Horn, who hauled in two touchdowns of 16 and 46-yards respectively.
"Sam continues to get better and better," Lierman said. "He's a great player already. … The last few weeks he's been seeing the field well. He's executed the offense for us. … he's got a ton of experience. He's played a lot of football, we just let him go out there and run the show."
With the win, Liberty North will turn its attention to Raymore-Peculiar, while Blue Springs South will turn its attention to crosstown rival, Blue Springs, in the annual 'Cat Clash.'