Photo Credit: Nick Smith/PrepsKC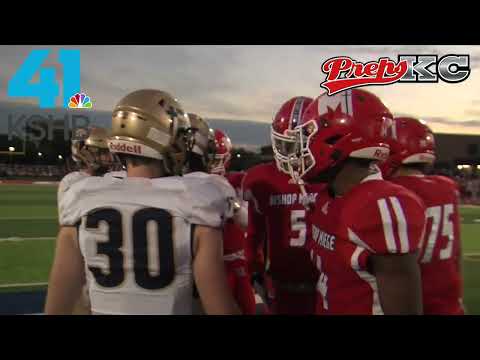 For the better part of one half, Bishop Miege was flying high and in control.
Until St. Thomas Aquinas brought its Kansas Catholic school rival back down to Earth – literally.
After Miege rode its lethal passing game to a three-touchdown lead, Aquinas unleashed its ground game and, with the help of two big turnovers, roared back and claimed a 29-26 victory over the Class 4A top-ranked and unbeaten Stags Friday night at Miege's Dixon Doll Stadium.
Miege (5-1, 4-1 Eastern Kansas League) held a 20-0 lead after DeAndre Beasley's 3-yard touchdown run capping the opening drive of the third quarter. That drive was just more of the same for the Stags, who were clicking behind quarterback Mac Armstrong.
Aquinas (4-2, 4-1) and ranked No. 3 in Class 4A, quickly found its footing after that. The Saints' offensive line dominated up front and blew open big holes for running back Sean Carroll, who accumulated most of his 168 rushing yards and all three of his touchdowns in the second half.
Carroll tallied most of the yards on Aquinas' ensuing possession, which ended with a 26-yard option pitch TD run by Jack Forge for the Saints first points.
After forcing Miege to punt, Aquinas was on the march again, this time scoring on a 2-yard run by Carroll that brought Aquinas within 20-14 early in the fourth quarter.
Armstrong, who finished 20-for-26 passing with 257 yards and two TDs, struck on the very next play, finding a wide open Daegan Jensen for an 80-yard TD pass. A blocked extra point kept Aquinas within 26-14.
Carroll scored from 3 yards out on Aquinas' next possession to make it 26-21, and the Saints quickly got the ball back when Armstrong fumbled after taking a hard hit on a scramble at midfield.
Ten plays later, Carroll busted in from a yard out, and quarterback Aiden Skinner connected with Forge for a two-point conversion and a 29-26 lead.
"That's high school football," St. Thomas Aquinas coach Randy Dreiling told KSHB 41 after the game. "Last week first half we did exactly what we did tonight in the first half, and we killed ourselves and cost us a game. Tonight, in the second half we didn't do that we sustained drives."
Miege still had plenty of time, and a good kick return put the Stags in position to avoid the upset. But on the third play of the drive, Armstrong was intercepted by Aquinas' Wyatt Lewis, who returned it deep into Stags territory with 2:35 to play. From there the Saints kept the ball on the ground and ran out the clock.
Armstrong, who hadn't thrown an interception all season, had two picks against the Saints. His evening started out much better than it ended.
After a scoreless first quarter, Miege scored two touchdowns on long drives in the second quarter for a 14-0 halftime lead. Stags quarterback Armstrong tossed a 3-yard touchdown pass to Jensen for the first score, capping a 93-yard, 27-play drive that started midway through the first quarter. Jensen finished with eight catches for 146 yards and two TDs.
Miege was marching again as the first half drew to a close, with Beasley blasting in from 3 yards out with 50 seconds left in the half for the Stags' second score.
Miege next week travels to Blue Valley West, while Aquinas will play host to Blue Valley.