Welcome to Five From Friday our weekly feature that highlights some of the best quotes, notes, stats and performances of the games Friday night.
Quote of the night
"We were really amped up for a dog fight and ready to go, and we ended up playing great. We've still got things to work on and things for us as coaches to teach, so there's a long way to go, but yes, this was a complete performance." – Lee's Summit North Coach Jamar Mozee after his team's 47-7 dismantling of Raymore-Peculiar
Stat line of the night
Mac Armstrong, quarterback, Bishop Miege – The senior finished the Stags 40-0 with going 31-36 with 345 yards and four touchdowns. In just five games he has thrown for 1,803 yards with 16 TDs and no interceptions while completing 80.6 percent of his passes.
Call/Highlight of the night
St. James Academy Coach Tom Radke has been known to come up with something special to start a game. Whether it's an onside kick or a reverse. This week was no different as a backwards bubble screen turned into a second pass and a touchdown. Liam Brockwinkle was on the call for The Thunder Network and the video was provided by Jason Burritt.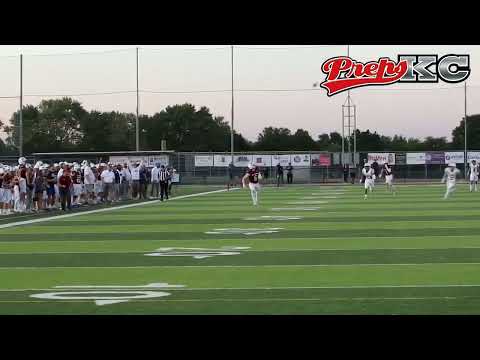 Team of the night
Louisburg – The Wildcats won a tough back and forth battle with Eudora 28-27 in overtime. The win moves Louisburg to 4-1 on the season while handing the Cardinals their first loss of the season.
Big Winner
Clinton – The Cardinals beat Missouri Military Academy 42-6 for their first win since Oct. 6, 2017 when they beat Springfield Central 42-0. Clinton was winless in 2018-20 and didn't field a varsity team last season because numbers were low in their upper classes. The victory ended a 37-game losing streak that lasted almost five years to the day.