Photo Credit: Nick Smith/PrepsKC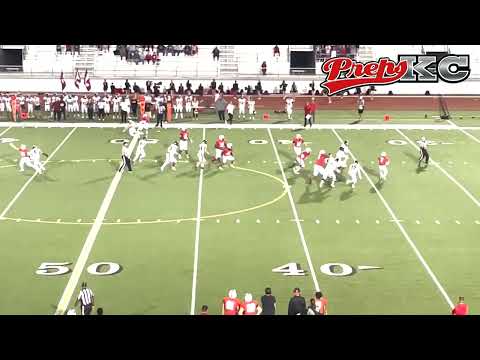 Lawrence extended its win streak to four games with a 44-14 win over Shawnee Mission North on Friday night.
"I don't feel like we played a very good game," Lawrence head coach Clint Bowen said. "I give credit to North, they muddied the game up. The kids did find a way to put some points up, but we're not going to go far in the playoffs playing like that."
The Lions called on running back Tyrell Reed for much of the night and the senior delivered, scoring five of the Lions six touchdowns.
Sam Sedo gave Lawrence an early spark, taking the opening kickoff all the way to the North 39.
Just a few plays later, Reed darted into the end zone from 5 yards out and it was 7-0 Lions less than two minutes into the game.
The Bison answered right back.
On their first play from scrimmage, KeJuan Blake broke free for a 65-yard touchdown, and it was 7-7 at 10:37 of the first.
Both offenses slowed down considerably before Lawrence regained the lead (10-7) on a 24-yard field goal by Noah Kirk with 5:25 to play in the half.
The Lions next big play came on a pass from Grammer to Reed, which set up first-and-goal.
One play later, Reed scored his second touchdown of the game, and it was 17-7 at 2:41 of the second quarter.
"We want to be a 50-50, run-pass team, but every time we dropped back to pass, they (SM North) were pressuring our QB and we couldn't get the pass game going," Bowen said. "Again, that's a credit to them. It just never had a feel of a game that we were playing the way we should be playing in week five of the season. We'll go back to practice next week and try to keep getting better."
It was another quick start for the Lions out of the half.
Jaydon Brittingham's fumble recovery set Lawrence up at the Bison 20.
A couple of snaps later, Reed scored another rushing TD and it was 24-7 Lions.
Reed would add his fourth score of the game on the next Lawrence possession to push the lead to 30-7.
At 8:54 of the fourth, Reed crossed the goal line for the fifth time and the Lions led 37-7.
On the ensuing kickoff, Bison sophomore Jeremiah Looney took it 80 yards for a touchdown.
Lawrence stayed with its ground attack, but this time it was Brayden Heck, taking it in from 5 yards out and the lead was back to 30.
"This middle part of the season is the hardest time for kids to get through, but it's also the most critical for your improvement," Bowen said. "Good teams are getting better in weeks five, six and seven when everyone else is just trying to get through it. We need to understand that. I hope our kids will after this and it kind of wakes us up because we've got a big one next week."
The Lions (4-1) will play at Gardner-Edgerton next Friday.
North (2-3) will look to rebound from its third straight loss on the road at Lawrence Free State next week.