Photo Credit: David Smith/Special to PrepsKC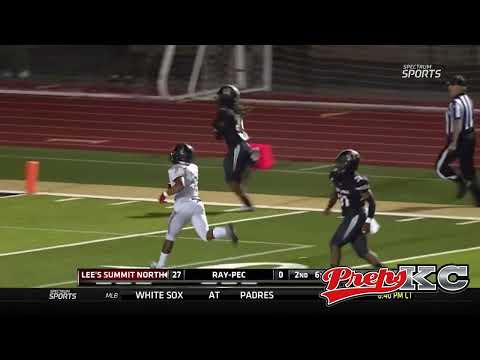 What was intended to be a clash of two of the highest-flying offenses in the metro for Missouri Class 6 wound up being a one sided affair as the Lee's Summit North Broncos dismantled the Ray-Pec Panthers by 40-point margin, 47-7 at Panther Stadium on Friday night.
Ranked No. 3 in the state entering the game, Lee's Summit North had something to prove having dropped their first premiere game against a Suburban Gold foe in Week 1 against Liberty North in the season opener. And after narrowly edging Blue Valley Northwest at home a week ago, the chance to flex their muscle against a Top 10 opponent in Ray-Pec was just what the doctor ordered, zoning in to put forth what head coach Jamar Mozee admitted was his program's most complete performance of the season.
"Yes, no doubt about it," Mozee responded when asked about his team's overall showing in Peculiar. "We were really amped up for a dog fight and ready to go, and we ended up playing great."
"We've still got things to work on and things for us as coaches to teach, so there's a long way to go," he added. "But yes, this was a complete performance."
The Broncos wasted no time quieting what was supposed to be a hostile environment. On the first play from scrimmage for the offense, junior tailback Tanner Howes ripped off a near 50-yard run down the Ray-Pec sideline to set up the first of five first half touchdowns for North. Two of those were personally carried over the goal line by Howes on what finished as an 11-carry, 93-yard performance for him.
Meanwhile, the quarterback rotation of senior Maxxwell Ford and junior Elijah Leonard was seamless, as each passer hooked up with a receiver for a score. Moore's touchdown pass was a beauty, scrambling out of the pocket outside the red zone to locate a wide-open Jayden Hines who'd slipped behind the Panthers defense to give the Broncos a 14-point lead with 5:18 left to play in the opening quarter. Ford's touchdown pass to star sophomore Isaiah Mozee may have been the true back breaker for Ray-Pec though. Just six minutes after freshman phenom DeZephen Walker took a kickoff to the house to finally put Ray-Pec on the scoreboard 27-7 late in the second quarter, the Panthers defense had an opportunity to hold the Broncos on a 4th downplay inside the red zone and capture some much needed momentum entering the break. Instead, Ford dialed up a perfect toss to the back corner of the end zone to extend the halftime lead to 34-7.
"Obviously we hoped to play better than we did," Ray-Pec head coach Sean Martin stated afterward. "Things got out of control."
"They've got a lot of really good players and played a very physical and fast game," he continued. "We seem to compound mistakes and had trouble sticking our foot in the ground and stopping it. Against that type of team, you can't do that."
The manner in which Ray-Pec's offense in particular struggled was certainly something to behold. Boasting the likes of Nebraska commitment Jaidyn Doss and rising junior weapon Jaden Reddell, who earlier in the day picked up a scholarship offer from Alabama, the Panthers had been averaging close to 40 points-per-game before facing the Broncos. But on Friday, it was largely the special teams returns of Walker that saw the Panthers do any sort of movement downfield, as Ray-Pec finished with just 101 yards of total offense and only three first downs.
"Those two guys, they've been tearing people apart," Mozee said of Doss and Reddell, a duo that combined for just 69-yards on seven receptions. "Our focus was on them, and we knew we had to slow them down. In previous weeks, we struggled some against the passing game but tonight was a big success for our defense."
For Ray-Pec, who now stands 4-2 on the year, it's back to focusing on Suburban Gold rivals from here on out, beginning with Lee's Summit West next week. Martin thinks he has the locker room to bounce back.
"They're excited [for the challenge] and I thought our attitude was good after the game," he said. "We always talk about going to work the next day, but you don't know until you get there."