Welcome to Five From Friday our weekly feature that highlights some of the best quotes, notes, stats and performances of the games Friday night.
Quote of the night
"Every game is meaningful, no matter if it's a win or loss. What we talk about is winning is a lot more fun than losing. We find meaning in either one, but we like winning." – Oak Park Coach Ken Clemens after his team's 47-25 win over Platte County to move to 5-0 on the season.
Stat line of the night
Dylan Dunn, quarterback, Blue Valley Southwest – The Timberwolves signal caller lit up Spring Hill throwing for 272 yards and four touchdowns in Southwest's 49-29 win over the Broncos.
Call of the night
Bishop Miege had led Rockhurst most of the night and were up 28-21 in the final minutes of the game. The Hawklets put on a final drive and pounded the ball all the way down to the Stags 4-yard line where they had a 4th and 1 with under a minute left. Bishop Miege needed one more play out of its defense. Here is the play as it aired on Spectrum Sports Kansas City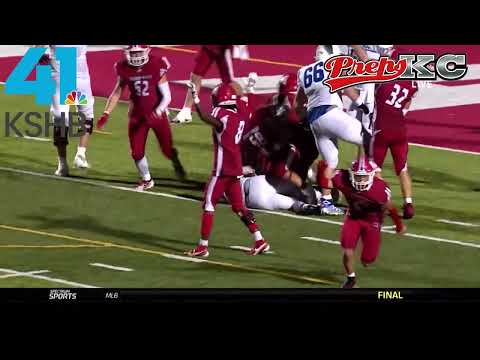 Team of the night
Lafayette County – The Huskers rallied from down 12-10 to hold off Richmond 18-12 and win a key Missouri River Valley Conference East battle that was also a showdown of two unbeaten teams ranked in the top five of Class 2.
Big Winner
Metro football fans – With five Kansas vs. Missouri games on the schedule we go to see matchups that knew and different. While Rockhurst and Miege have been playing the last few years we got to see the first-ever matchups between Staley and Blue Valley West; Raymore-Peculiar and Blue Valley North; Blue Valley and Blue Springs and Blue Valley Northwest at Lee's Summit North. All but one were close one-score games and great entertainment. Hey powers that be, we need more, not less of these matchups.