Photo Credit: Jeff Stead/PrepsKC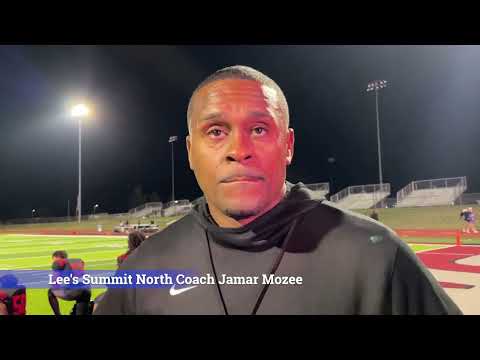 Lee's Summit North coach Jamar Mozee and his coaching staff didn't know what to expect coming into Friday's game against Blue Valley Northwest.
The one thing Mozee did know is if the Broncos wanted to beat the reigning Class 6A champs in Kansas, they'd have to find a way to contain Blue Valley Northwest running back Grant Stubblefield, and they did just that, as the Lee's Summit North defense held Stubblefield to 31 yards on 19 carries.
"You just don't know (what to expect in these types of games)," Mozee said after his team defeated the Huskies 40-34 to improve to 4-1 on the season. "You look at the film: are they good? Are they that good? They're a good team. They are very well coached. I was impressed with them totally all the way around. Our guys fought, their guys fought, and it came down all the way to the end."
As for the game itself, both teams struggled to find their footing in the opening quarter, Lee's Summit North opened the game marching down the field, but the drive stalled out at the 15-yard line of Blue Valley Northwest.
After the Huskies went three-and-out on its opening series, Lee's Summit North went on another long drive spurred by its rushing attack led by Quincey Baker and Tanner Howes. Baker and Howes combined to carry the ball eight times for 44 yards on the drive, which was capped off by a Maxwell Ford 1-yard quarterback sneak to give the Broncos a 6-0 lead.
The Huskies answered North's long drive with a long drive of their own as they methodically down the field. Instead of feeding Stubblefield, BVNW coach Clint Rider called on his quarterback Connor White to jump start the offense, and boy did he, as he completed passes of 13 and 10 yards to set up a Stubblefield 1-yard touchdown to give the Huskies a 7-6 lead — a touchdown that gave him the school's all-time rushing touchdown record.
"No one really runs the ball on us," Mozee said. "He's hard to deal with … but our defense did a good job (holding Stubblefield down)."
The Broncos took the lead midway through the second quarter as Howes scored on a 27-yard touchdown to give North a 12-7 lead. Blue Valley Northwest wasted no time answering on its ensuing possession as Stubblefield scored his second touchdown of the night with a 4-yard run, giving the Huskies a 14-12 halftime lead.
Blue Valley Northwest came out of the gates on fire in the third quarter as White connected with Gavin Hoffman for a 79-yard touchdown, pushing its lead to 21-12.
Trailing 27-18 and looking for a spark, Mozee called on Baker. Baker carried the ball six times for 28 yards, and it was Baker who capped off the 10-play, 80-yard drive with a 6-yard touchdown to cut the lead to 27-26.
"We're young, we told our kids to keep playing," Mozee said. "Being in these types of situations is good. We've got to learn. You've to keep playing and keep fighting."
North took control of the game late in the fourth quarter as Jamir Conn intercepted a White pass giving the Broncos prime field position.
Three plays later, the Broncos found paydirt as Ford scampered into the end zone with a 7-yard touchdown to give the Broncos a commanding 40-27 lead.