Photo Credit: Steve Bubalo/PrepsKC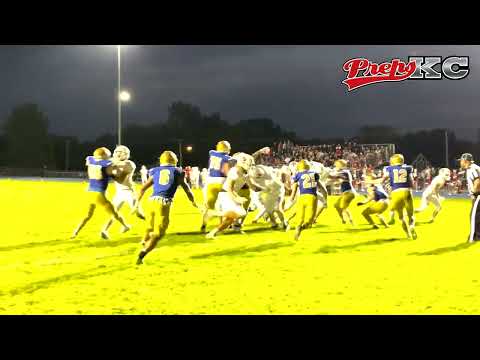 Lafayette County went into halftime against Richmond Friday night clinging to a 10-6 lead, but they had to feel like it should have been more. On their final two drives of the half, they reached the Spartan 1-yard line and 2-yard line, respectively, but on those two possessions only walked away with three total points.
So, when Richmond took a 12-10 lead two plays into the second half on a 61-yard touchdown pass from Donivin Williams to Eli Steele, those missed opportunities loomed large.
"That's part of the game," Lafayette Country quarterback Josiah Golden said. "We faced some adversity and had to keep pushing."
And keep pushing they did, with their senior quarterback leading the charge.
Late in the third quarter and into the fourth, Golden led an 88-yard drive that he capped with a 2-yard touchdown run that would give the Huskers the lead for good, 18-12, after the two-point conversion.
"It shows how mentally tough we are," Golden said of the team's game-winning touchdown drive. "We just kept coming and kept coming."
Golden saved his best for that drive, rushing the ball five times for 58 yards and connecting with Camden Russell for a 9-yard pass. The big play of the drive was a nifty 34-yard run that had Golden juking multiple Spartan defenders, at one point causing two of them to run into each other.
"I've shown those moves a couple of times," Golden said with a smile. "It got the fans excited."
The Huskers offensive line started to take over the last couple of drives. Even on their final offensive possession, although they didn't score, they were able to drain nearly 6 minutes off the clock as they kept pounding the ball behind their big linemen.
"Physicality is our mantra," head coach Steve Cook said. "That's what we want to do. We've got great size all the way across. We grind it out. We preach ball security and moving the chains."
"They're a good team," Richmond head coach Nick Persell said. "Eventually, they're going to put a drive together. They're big up front."
Richmond goes with a little more of an up-tempo look on offense, although they didn't think that would be the game plan heading into the game. Williams had missed the last games with an injured shoulder and was not expected to play. He didn't practice until Thursday but felt ready to go on game day.
"Our game plan was different Monday-Wednesday," Persell said. "I wish we could have had more prep on offense. Our game plan is much different with our backup."
At times Williams didn't look like he missed a beat. He led a scoring drive midway through the second quarter, converting a fourth-and-17 on the drive before scoring on a 3-yard run to make it 10-6. Their next possession resulted in the score from Steele, but after that, the offense stalled on its final three possessions, earning only three first downs.
The key for the Husker defense was pressure on Williams, as they consistently blitzed and forced some quick throws under duress.
"We settled in on defense," Golden said. "We have a fantastic D-line."
Added Persell, "We just needed to make a couple more plays. We had opportunities. We had some guys get banged up. We filled in with whoever we could."
Richmond (4-1) will look to get back in the win column next Friday when they host Carrollton. Meanwhile, Lafayette County (5-0) will look to stay undefeated when they travel to Holden.
"We talked in the locker room about killing complacency," Cook said. "We're going to practice hard this week. Holden will not be overlooked."