Photo Credit: Nick Smith/PrepsKC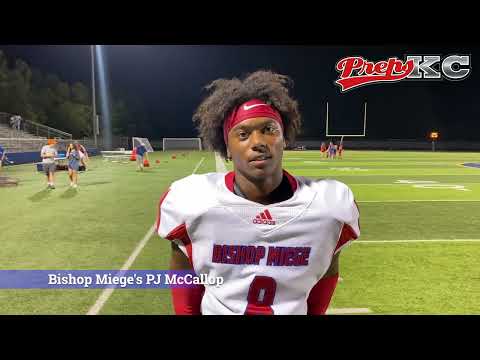 After bowing out in the Class 4A playoffs the past two seasons with losses to St. James, the Bishop Miege football team came out into Friday night's matchup against the Thunder with a big point to prove. The Stags made their point and made it quite loudly during a 52-14 win over the Thunder.
"It means a lot any time you can beat a defending state champion because that's the best team in the state right now. We wanted to make a statement tonight that we feel good about our football team," Miege coach Jon Holmes said. "I'm proud of our guys because it's never an easy week to get ready for a game like this, especially with what they have offensively and defensively. They've got great players and are coached extremely well on both sides of the ball."
The Thunder (0-3) did strike first on a 3-yard touchdown pass from Blake Boydston to John Niesen, but it was pretty much all Stags after that. The Stags (3-0) forced five first half turnovers—coming up with three interceptions and forcing two fumbles—to take a 38-7 lead into the locker room. Miege had a fumble recovery from Lonnie Reed after the break as well to win the turnover battle, 6-0.
"We all know where each other will," defensive back Aidan Wing said of the defensive performance. "It's all about trust, playing with confidence and playing free."
Wing (interception and fumble recovery) and Jack Baird (two picks) paced the Stags defense with two turnovers apiece in the first half. It was PJ McCallop, though, who arguably had the defensive highlight of the night for the Stags. McCallop's 32-yard scoop and score pushed Miege's lead to 24-7, and he covered quite a bit more ground than just the 32 yards on his way to the end zone.
"It went right and saw a lot of people running over there and said, 'I don't want to go that way,'" McCallop said. "I turned around and hit them with a little (juke) and it was cake and better from there."
While Mac Armstrong and the Miege offense had been putting up video game numbers through two games, the Stags defense had shown its dominance as well—only allowing 14 total points in victories over Blue Valley North and Blue Valley Southwest. Armstrong and company were given a short field on their first possession following a Wing fumble recovery on the first play from scrimmage. The Stags came up empty after turning it over on downs, but it didn't take long for the offense to start firing on all cylinders.
Armstrong completed 25 of 29 passes from 316 yards and three touchdowns. Isaiah Coppage was his top target, hauling in 10 receptions for 136 yards and a touchdown. Teryn Jackson was just shy of the century mark, bringing in eight catches for 96 yards and two scores.
While Holmes is pleased with the rapport that is building between Armstrong and his wideouts, it was David Garcia and the ground game that he thought was one of the biggest takeaways of his team's performance. The junior running back rushed for 85 yards and two touchdowns on 16 carries. Logan Thilges added a 1-yard touchdown plunge as well.
"David was the game breaker tonight. Our receivers have done great things the first two weeks and we knew that they were going to play a little odd front and walk 44 (Jayden Mabion) out to the boundary a little bit," Holmes said. "And then 23 (Noah Hornback) was going to be on the other side. So, we felt the open was going to be in the middle, and we got that on a trap tonight the really forced those linebackers to stay in there. That really opened up our RPO (run-pass option) game on the outside."
The Stags scored 45 unanswered points after Boydston's touchdown pass to Niesen with 4:35 to go in the first quarter. A 13-yard touchdown run by Boydston with 3:27 remaining in the third put an end to the Miege run. Boydston tallied 19 carries for 99 yards and the score, while completing 12 of 20 passes for 150 yards, one touchdown and three interceptions. Finn Burritt was the Thunder's biggest playmaker, as he caught six passes for 116 yards.
St. James and Miege both have another rivalry matchup on deck next week. The Thunder will hit the road to take on St. Thomas Aquinas at 7 p.m. Friday. The Stags will play host to Rockhurst at 7 p.m. Friday.