Photo Credit: Justin Flor/PrepsKC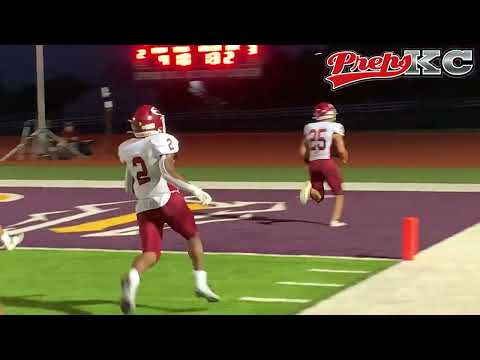 Eudora ran their record to 3-0, with an impressive, road victory over the Spring Hill Broncos 37-10.
The Cardinals were led by junior quarterback Kole Manley, who ran for one touchdown, and threw for two others.
Manley started the scoring with 3-yard keeper. After the game he gave credit to his offensive line, "It all starts with their preparation, and it was a designed run, and I just followed them."
Eudora forced the Broncos to punt; however the snap was high and over the punters head, and the Cardinals scored a safety.
On the next possession the Cardinals scored on a 15-yard run, by Octavius Lyles, when he bounced a handoff to outside, and ran down sideline for the score.
The Broncos scored when Ryan Jackson, nailed a 23-yard Field goal. The quarter ended with up 16-3.
The second quarter is where the Cardinals put the game away. Manley connected Braylen Hoobler, a 13-yard score.
Matt Magette scored on a 35-yard option play around the right end.
Manley finished off the half, with 15-yard touchdown to Adrion Seals. Kicker Gage Baumgartner converted on his fifth conversion and the teams went to halftime with the Cardinals on top 37-3.
Spring Hill did find the end zone with :49 left in the game. Colton McKanna scored on a bruising 14-yard run. Jackson converted the point after for the final score of the game.
After the game Cardinals head coach, Drew Steffens praised his team, "Overall this was a very good team win. We have a bunch of kids who love football and are trusting the process. We played well on offense, defense, and special teams. The entire coaching staff, works on playing fast, and physical."
The Cardinals offensive line played extremely well. All five members of the line finishing blocks on every play. Right tackle, Braeden VanDonge, spoke about his fellow lineman, "We just fire off the ball, and start looking for someone downfield to block."
The Cardinals will look to stay unbeaten next week, when they travel to Ottawa. Spring Hill record drops to 1-2, and they will be home to take Blue Valley Southwest.