Photo Credit: David Rainey/The Examiner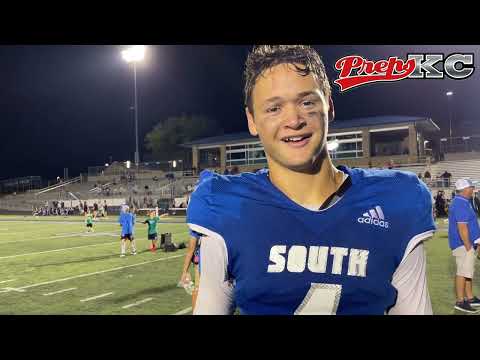 Football is a game of ups and downs, or as Blue Springs South first-year coach Alan Wilmes put it, a roller coaster ride.
The Jaguars (2-1) went toe-to-toe with one of the metro's best offense and pulled off an incredible comeback to beat Park Hill 50-49 Friday.
Trailing 49-44 with 1:08 left in the game and facing a 4th-and-6 at Park Hill's 19-yard line, it was now or never for the Jaguars, after a false start negated a first down on the previous play, Wilmes decided to the game in the hands of his senior quarterback, Cash Parker.
Parker took the snap, scanned the defense, and saw his receiver, Riley Dowler, running free down the middle of the field. The 19-yard touchdown put an exclamation point on the win, said Parker.
"We know how to fight," Parker said, who finished the game with 437 yards and five touchdowns. "We always preach … eleven men, doing eleven jobs. And that's what we did on both sides of the ball. Everyone stepped up and did their jobs … (we) went out there and made plays for each other."
Trailing 24-21 midway through the third quarter, Park Hill turned the game on its head by scoring 21 unanswered points in a span of five minutes of game time.
Facing 2nd-and-2 at the Jaguar 20-yard line, Park Hill quarterback Kedrick Bell connected with Bryce Lisaka for a 20-yard touchdown to give Park Hill a 28-24 lead.
The Jaguars fumbled on the ensuing kickoff, giving the Trojans prime field position. Field position they didn't waste as Bell capped off the three-play, 22-yard drive with a 20-yard touchdown run.
In past seasons, the third quarter has proved detrimental to the Jaguars. And in some cases, it has proved detrimental this season, but Wilmes relied on his leaders to keep the team focused.
"I think the third quarter in the past has been a ghost for them," Wilmes said. "I just told them to keep playing, we kept making adjustments, we kept coaching and told them to keep going. … That's what kept us in the game and let us come back and pull out a 1-point victory."
The Trojans thought they put the game away in the fourth quarter as Bell threw his fifth touchdown of the Nguni to Dayton Howard to give Park Hill a commanding 49-31 lead. Bell finished the game with 312 yards, completing 26 of his 48 passes and had five touchdowns, he was also intercepted three times by Jermon Strickland.
"We knew we had to keep the energy up," Strickland said. "We knew the defense had to bring the energy on the final drive (and we did)."
When asked after the game if that's the best game he's ever been a part of, Wilmes had this to say: "I would have to say it's been one of the top ones. … right now I would say it is the one. We've had some really good ones in the past, I don't know how you could beat this one."