Photo Credit: Nick Smith/PrepsKC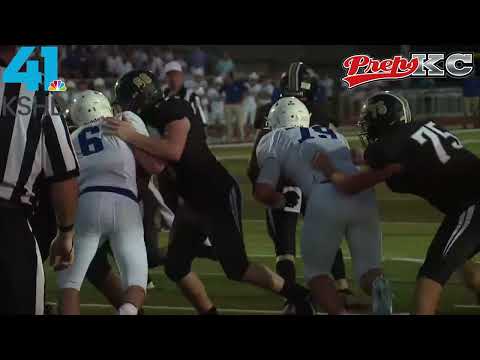 It's three straight years now that Raymore-Peculiar has opened its season against Rockhurst. In all three meetings, the Panthers prevailed with pluck and perseverance.
Last year, Ray-Pec needed a late touchdown to win. On Friday night, the Panthers needed to come from behind twice to put away Rockhurst 33-26 in a wild back-and-forth game in front of an overflow crowd at Ray-Pec.
"We talk to our kids about resilience, perseverance and all those other terms and really believe in them," Ray-Pec coach Sean Martin said. "And our kids are fighters."
Fighters like quarterback Zander Dombrowski, who threw for 208 yards and four touchdowns. Or wide receiver Jaden Reddell, who caught two of those TD passes, including the one that put the Panthers ahead for good in the fourth quarter. And running back Thomas Fager, who led a multi-pronged rushing attack with 78 yards on 14 carries.
All told, Ray-Pec finished with 400 yards of total offense to Rockhurst's 263 yards. But turnovers, and the Hawklets' physical play on both sides of the ball, kept this one a see-saw affair.
Ray-Pec appeared to have the upper hand when it took a 19-11 lead on a 28-yard touchdown run by freshman DeZephen Walker with 48 seconds left in the first half. That was just one of several dazzling runs by Walker, who finished with 55 yards on five carries.
"They're on a great run and they have some really, really good players," Rockhurst coach Kelly Donohoe said. "I don't think we'll see better skill players all year."
But with the help of a short kick, Rockhurst had enough time to strike back. Hawklets quarterback Ethan Hansen tossed a 27-yard pass to Aidan Ryan from midfield, and that set up a 22-yard strike to Mitch Forbes in the right corner of the end zone with four seconds left for the second of his two TD passes. Hansen threw to Vince White for a two-point conversion and 19-19 tie.
And after Ray-Pec stopped Rockhurst's third-quarter opening drive on downs, the Panthers gave the ball right back with a fumble on the next play. That set up a 7-yard Hansen TD keeper and a 26-19 Rockhurst lead.
"I talked to them at halftime and I thought a lot of phases of the game we didn't play really well and as coaches we didn't coach very well," Martin said. "And there we were tied at the half and things would start to go our way. I think the kids kept their heads up and battled through it and I was really proud of them."
Dombrowski, a second-year starter who guided Ray-Pec to a last-second TD in last year's 20-14 win, said he never doubted the Panthers' ability to come back.
"We've been here before," Dombrowski said. "I felt like there was more ball to play. In the first half we scored three consecutive times. So I had no doubt we had that in us."
After holding Rockhurst three and out on its next possession, Ray-Pec marched downfield and tied the game 26-26 on an 8-yard pass from Dombrowski to standout senior Jaidyn Doss early in the fourth quarter.
Rockhurst's next possession stalled, and Ray-Pec got the ball near midfield, setting up a 22-yard TD pass to Reddell, who slipped underneath the Hawklets defense to find his way to the end zone with 7:20 left in the game
"It was a snag, I come across, and they trust me to get it in and to score," Reddell said.
Reddell also score Ray-Pec's first TD on a 17-yard pass from Dombrowski in the first quarter, not long after Rockhurst took an 8-0 lead on a 36-yard TD pass from Hansen to Miles Carson. Ray-Pec couldn't convert a two-point try and trailed 8-6 at the end of the first quarter.
Ray-Pec and Rockhurst continued trading scores in the second quarter. The Panthers scored next on a 36-yard TD pass from Dombrowski to Gunner Elkins to go up 12-8, and Rockhurst closed within one on a 25-yard field goal from Nick Koca.
Soon the two teams would swap scores again. And then leads.
All of which would add up to more season-opening heartbreak for the Hawklets.
"It was a tough first test for us," Donahoe said. "But we knew it would be. Our kids will learn a lot from this and we'll bounce back be ready to go next week."