The Suburban White has some changes this season just like every group in the Greater Kansas City Suburban Conference at the start of a two-year cycle.
Gone is Fort Osage and Truman but joining the league is Platte County so the league continues to be strong.
Two schools, Raytown and William Chrisman have new coaches so there are even more changes at those schools.
Below is the Virtual Media Day and previews of all the Suburban White teams.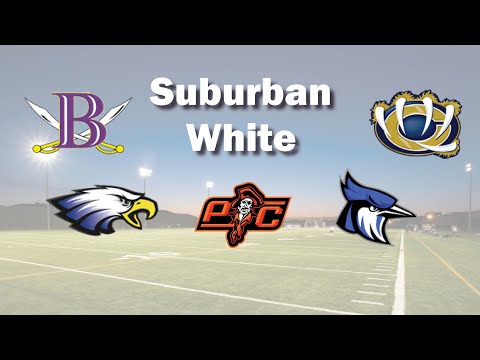 Belton
Head Coach: Todd Vaughn, 10th season
2021 record (overall/conference): 7-4/2-3
Returning Starters (Off/Def): 6/4
Biggest Challenge: The Pirates are looking to fill some key starting positions on both sides of the line. Belton lost two offensive linemen while the defense needs two safeties and linebackers. Getting those new starters up to speed will be a big part of any early season success.
Outlook: The Pirates should be dynamic on offense with returning starters Gio Mack at quarterback, Javon Minor at tailback and Greg Lyle at slotback. Belton should be able to score with most teams and if their defense gains some experience this could be yet another Belton team that puts together a strong late season run.
Coach's thoughts: "Just really excited to get started. We feel like we have potential to be a really good football team on both sides of the ball. We are off to a good start so far and hope to continue to improve and see where we are in late October and November."
2022 Schedule:
8/26 Excelsior Springs
9/2 @ Winnetonka
9/9 Fort Osage
9/16 @ North Kansas City
9/23 William Chrisman
9/30 Grain Valley
10/7 @ Platte County
10/14 @ Raytown
10/21 Kearney
Grain Valley
Head Coach: David Allie, 9th season
2021 record (overall/conference): 9-4/4-1
Returning Starters (Off/Def): 6/7
Biggest Challenge: The Eagles lost some impact players on the defensive side of the ball including Missouri Class 5 defensive player of the year Gage Forkner. His linebacker position will have big shoes to fill so that position group will be worth keeping an eye on early in the season.
Outlook: Grain Valley was supposed to take a step back last year and all they did was advance to the quarterfinals losing to Fort Osage for the second time. With quarterback Caleb Larson back this should be a good offense and the defense will be strong as well. Grain Valley is a district title contender again in 2022.
Coach's thoughts: "We knocked on the door the past three years, making it to the quarterfinals of the state playoffs in each of those seasons. Continuing with the ALL FOR ONE motto we initiated four years ago, our players are truly dedicated to each other and to the program and are looking to have a break-through season."
2022 Schedule:
8/26 @ Fort Osage
9/2 Grandview
9/9 @ Oak Park
9/16 Platte County
9/23 Blue Springs South
9/30 @ Belton
10/7 Columbia Hickman
10/14 @ William Chrisman
10/21 Raytown
Platte County
Head Coach: Bill Utz, 14th season
2021 record (overall/conference): 9-3/5-1
Returning Starters (Off/Def): 6/5
Biggest Challenge: The Pirates are replacing a lot of good players on both sides of the ball. Platte County has been a team that could outscore anyone the past few seasons. This year may be more of a field position play defense type of team as new players on the line and at quarterback gain experience.
Outlook: This team returns one of the best players in the Metro in defensive end Chandavian Bradley who has committed to Tennessee. There are other good players and the Pirates have a tradition of being able to replace good players year in, year out. This will be a year where plenty of inexperienced players will be asked to step up and keep a strong tradition going.
Coach's thoughts: "We have a great group of young men returning, but also have to replace a lot of experience. It will be fun to watch this group come together and compete against a very challenging schedule.
2022 Schedule:
8/26 Kearney
9/2 @ Smithville
9/9 North Kansas City
9/16 @ Grain Valley
9/23 @ Oak Park
9/30 Raytown
10/7 Belton
10/14 @ Park Hill South
10/21 William Chrisman
Raytown
Head Coach: Mike Hedrick, 1st season
2021 record (overall/conference): 6-4/2-1
Returning Starters (Off/Def): 6/7
Biggest Challenge: There are a few new wrinkles that the coaching staff is putting in this year so there is a bit of a learning curve. While there are returning starters not all were in the lineup all season so they are being asked to step up and be anchors for the team.
Outlook: The Bluejays have good building blocks on offense with returning starting quarterback Nathan Whitebear and all-everything offensive lineman Logan Riechert. New coach Mike Hedrick has been on staff the previous two seasons so that transition should be smooth. If Raytown can continue its current run of success it can have a chance to make deep in the postseason again this year.
Coach's thoughts: "I'm impressed by the kids willingness to get better each time we meet. They always want to compete and have an expectation to perform well."
2021 Schedule:
8/26 @ Smithville
9/2 Excelsior Springs
9/9 @ St. Joseph Central
9/16 @ Raytown South
9/23 Fort Osage
9/30 @ Platte County
10/7 William Chrisman
10/14 Belton
10/21 @ Grain Valley
William Chrisman
Head Coach: Michael Rose-Ivey, 1st season
2021 record (overall/conference): 3-7/1-4
Returning Starters (Off/Def): 6/9
Biggest Challenge: The Bears are strong in several places but will need to get experience at the offensive line and quarterback position. The new coaching staff will work to get that side of the ball up to speed so it can match the strength defense.
Outlook: There is a lot of enthusiasm around new head coach Michael Rose-Ivey and his staff. The Bears have a good base to work off with an experienced and talented defense. There are also several good skill players that can make an impact. Optimism is high this season at William Chrisman.
Coach's thoughts: "In my first year at Chrisman, I expect us to compete for four quarters against every team we face. We have a plethora of skill players at running back and wide receiver that we will get the ball to in various ways. Our defense and special teams will be our two biggest strengths this season. Our offensive line will be our biggest area for development. Although our quarterback is inexperienced, we feel trust Mitchell Cory's decision making. Depth at all positions must be developed over the season."
2021 Schedule:
8/26 @ Grandview
9/2 Truman
9/9 @ Van Horn
9/16 St. Joseph Central
9/23 @ Belton
9/30 Winnetonka
10/7 @ Raytown
10/14 Grain Valley
10/21 @ Platte County