Photo Credit: Ryan Edwards/PrepsKC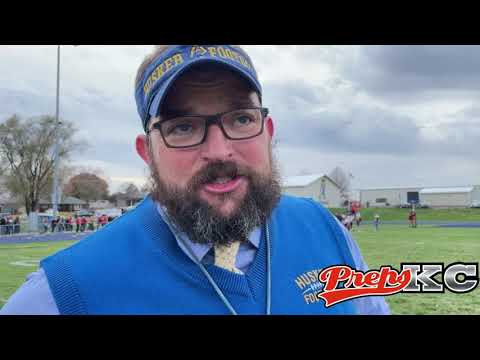 Lafayette County got everything it could handle and then some from Bowling Green.
The Huskers (12-1), fell behind 16-8 early before taking the lead late in the second quarter and never looked back en route to a 52-32 win over the upset minded Bobcats.
"Our guys showed a lot of heart," Lafayette County coach Steve Cook said. "They stopped us on a short field a couple times down in the red zone. We were able to battle back. … the guys showed a lot of fortitude there."
Lafayette County took the opening kick and marched right down the field, however, the promising drive stalled out as Brady Hayes was stopped at the 3-yard line by a host of Bowling Green defenders.
The Bobcats wasted no time capitalizing on the misfortune of the Huskers as Marcus Starks took his first touch of the game 91-yards for the touchdown to give Bowling Green an early 8-0 lead.
Looking for a spark, Cook called on his passing game to get on the board as Hayes connected with Gabe Nevels for a 16-yard touchdown.
Cook said it's important to keep opposing teams on their toes this late into the season.
"It's huge," he said. "We've got weapons all over the place. We're opportunistic when we pass the ball. … (you've) got to be able to run the ball in November still."
Trailing 16-8 after yet another long touchdown by Starks, Lafayette County answered with a quick strike of its own as Mason Rumsey hauled in a 52-yard pass from Josiah Golden.
The Huskers took control of the game late in the first half as Hayes scored on a 15-yard run on 3rd-and-goal.
Lafayette County put the game out of reach with three third quarter touchdowns, the first came from Nevels, who ripped off a 72-yard run to give the Huskers a 31-16 lead.
On Bowling Green's ensuing possession, Dylan Dalton was intercepted by Caden Munson on 3rd-and-11 and returned 15 yards for a touchdown to give Lafayette County a 38-16 lead.
After stopping Bowling Green on fourth down on its ensuing drive, the Huskers pushed their lead to 45-16 as Rumsey hauled in his second touchdown of the game from 29-yards out.
With the win, the Huskers will travel to St. Charles where they will play Lutheran St. Charles in the Class 2 semifinals.
"It means another week of prep," Cook said. "It means Thanksgiving together with the guys and a ballgame either Friday or Saturday. It means a lot. It's something we're going to celebrate quickly, and we'll get to work (on Lutheran St. Charles)."