Photo Credit: Nick Smith/PrepsKC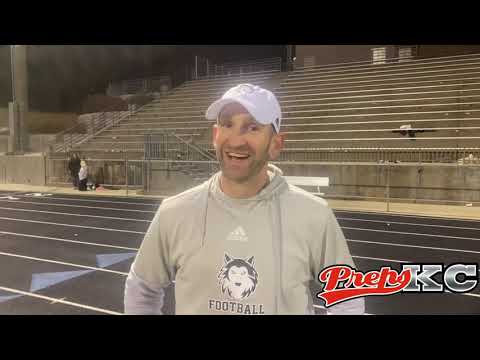 After shutting out Blue Valley West in Week 8 of the regular season, the Blue Valley Northwest defense proved that opponents had to worry about a lot more than quarterback Mikey Pauley and the Huskies' high-flying offense. However, the Huskies knew that they'd have to be at the top of their game to slow down the Jaguars again in Friday's Class 6A semifinal matchup.
The Huskies lost their chance at another shutout with two minutes to go in the first half, but the BV Northwest defense did more than enough to help punch their ticket to the 6A state title game in a 35-7 victory over the Jaguars. Blue Valley Northwest will face three-time defending state champion Derby in the Huskies first ever trip to the state championship game. Derby defeated Lawrence High, 62-28, in the other semifinal.
"It's the best feeling in the world. To take on what our guys took on from where we were at and to have this opportunity to go play for a state championship is just an amazing thing," Blue Valley Northwest coach Clint Rider said. "These guys stuck together, believed in each other and had a vision for how we can turn this thing around. This is just about as good of a feeling as it gets."
The Blue Valley Northwest defense made a big statement from the start by forcing a three and out on the Jaguars' first drive. After a short punt, the Huskies only needed five plays to march 31 yards for a touchdown. Pauley punched it in from 1 yard out to give the Huskies a 7-0 edge.
Pauley paced the BVNW rushing attack with 25 carries for 169 yards and four touchdown runs. His 2-yard touchdown run on the second play of the second quarter pushed the Huskies' lead to 14-0.
"Our offensive line is doing a great job. (Running back) Grant (Stubblefield) has been helping me out and I've been helping Grant out," Pauley said. "We've been doing some speed options and just have a bunch of stuff that we can really throw at them. It really makes the defense think. With two guys like Grant and I and our great O-line, it's hard to stop."
The Huskies were driving again with less than three minutes left in the first half, but the Jaguars came up with a stop on 4th and 7 from the BV West 45 to swing momentum. Blue Valley West quarterback Gage Roach capitalized on the Jaguars' defensive stop shortly thereafter with a 44-yard touchdown strike to Jack Schneider with two minutes to go in the half. Schneider's touchdown catch cut the deficit to 14-7 going into the break.
That was as close as the Jaguars would get, though, as the Huskies picked off Roach twice in the third quarter and turned them into 14 more points. Pauley capped the Huskies' opening drive of the second half with a 41-yard touchdown run, where he fended off four BVW defenders en route to the end zone.
Roach quickly guided the Jaguars into BVNW territory on the ensuing possession, but the drive came to a screeching halt following a Sebastian Meriano interception.
"I knew it was third down and that they were trying to get to the sticks. I made sure I knew where the sticks were and expected a comeback. I've seen it on film a lot," Meriano said. "I saw him break out, so I went with him and caught the ball."
Rather than going back to the ground game right after Meriano's pick, Pauley found his favorite target, Steven Whitter, on the very next play for a 42-yard pass. Grant Stubblefield scored three plays later on a 16-yard run to push the BVNW lead to 28-7. Stubblefield finished with 22 carries for 99 yards and a touchdown.
Pauley and company didn't get much of a breather after Stubblefield's score, as Joe Samyn corralled an interception on the second play of the Jaguars' ensuing drive. The BVNW quarterback made the Jaguars pay again with a 4-yard touchdown run on the second play of the fourth quarter. Pauley and Rider both had high praise for the BVNW defense for putting the offense in good positions for much of the night.
"Our defense is unbelievable (Kollin) Ahern is the best defensive coordinator that you could ask for. The guy is a super competitor and always prepared," Rider said. "Those guys are ready to play. That's a really good team and to be able to hold them to seven points in two games is pretty incredible. It says a lot about his preparation and the mentality that those guys play with on that side of the ball."
While Blue Valley Northwest is a program that's on the rise after going 0-9 in 2018 to now being 11-1 going into the state title game, Derby has been the clear-cut team to beat in 6A for the past decade by winning six state crowns in the last eight years. Rider's squad was chanting, "We want Derby!" following its victory over the Jaguars, but he assures that the Huskies have nothing but respect for the Panthers.
"It's Derby—they're the class of Kansas. Coach (Brandon) Clark has been a big help to me throughout my career, so I have the utmost respect for Derby and their program," Rider said. "We know how good their players are and their experience in state title game versus it being a new experience for us. We're going to have our guys ready to play. We're going to enjoy it over the weekend and be ready on Monday to get started."
The Huskies (11-1) and Panthers (11-0) will square off at 1 p.m. on Saturday, November 27 at Emporia State's Welch Stadium.