Photo Credit: David Rainey/The Examiner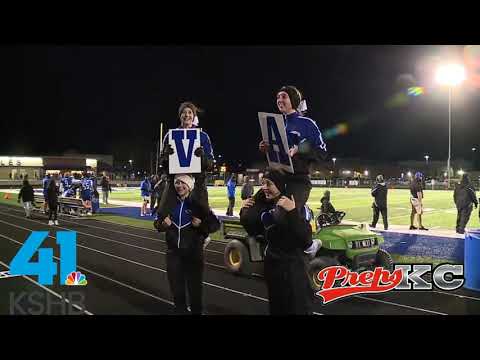 The Grain Valley defense was gassed.
Players were breathing hard, some had hands on their hips trying to catch their breath. That's because the host Eagles were in an overtime thriller in Friday's Class 5 District 7 championship game against Raytown.
The Eagles' defense played well during regulation, only allowing 10 points. But in overtime, the Eagles surrendered three touchdown runs of 6, 6 and 7 yards to Blue Jays senior running back Zahmari Gary. The senior was having success on outside runs. So when Raytown narrowed the gap to one point at the end of the third overtime, it decided to go for the two-point conversion and the win.
A seemingly tired Grain Valley defense had to try to stop Gary from beating them on an outside run. The Eagles did just that.
Sophomore linebacker Cole Elliott read the play and wrapped Gary up to slow him down. That allowed three other Eagles to come in and finish the tackle at the 3-yard line to secure an exciting 38-37 overtime win at Moody Murry Memorial Field.
"I looked ahead of me and their guy was looking at me," Elliott said. "I knew he was going to come and block me. I knew it was coming outside, so I just got my keys, read it and made the play."
The Eagles advance to next Friday's Class 5 quarterfinals for the second consecutive year and will take on Suburban Middle Six foe Fort Osage, which edged Platte County 22-20 in the District 8 final.
For the most part, the Grain Valley defense kept Raytown in check during regulation. Until the fourth quarter, it had surrendered only field goals.
With the way the defense was playing, it seemed like the Eagles' slim 10-9 lead might hold. However, the Blue Jays immediately responded on their next possession when Gary broke free on an outside run for a 77-yard touchdown. Quarterback Nate Whitebear ran in the two-point conversion to put Raytown ahead 17-10.
For the rest of the story click here.