Photo Credit: Riley McCabe/Special to PrepsKC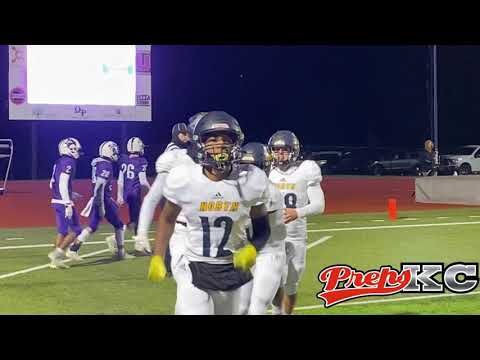 Thanks to a phenomenal second half effort, Liberty North made some history and took a significant step toward its championship goals.
The Eagles won back-to-back district titles for the first time in program history after a 34-14 victory against previously undefeated Park Hill South on Friday night. Quarterback Sam Van Dyne threw two touchdowns to Tate McGuire in the third quarter that put Liberty North in control for good, as the Eagles advanced to a Class 6 semifinal matchup against Troy Buchanan next weekend.
"It's always good to win a game, but to win a district championship is really big," Van Dyne said. "Now it's one more game, and we're in the state championship. That's what I'm looking forward to."
From the outset, Liberty North needed only a few plays to jump out to a lead on its very first possession. The Eagles took advantage of a very short field, and H-back Justis Braden rumbled in for an early score that Liberty North wouldn't give back.
Kicker Blake Craig tacked on a field goal in the first quarter, making it a two-possession game, before Park Hill South found its footing. Despite an early lull on offense, the Panthers (11-1) found their swagger and broke through when Nathan Ricco tossed a touchdown pass to Mudia Reuben shortly before halftime, making it a 10-7 game at the break.
"Those guys are big playmakers for us. They have been all year," Park Hill South coach Alan Wilmes said. "We just didn't make enough plays to take care of business, but I'm super proud of these guys. They had a heck of a year."
But Liberty North (10-1) delivered some big plays of its own to start the second half.
Less than two minutes into the third quarter, Van Dyne connected with a wide-open McGuire, who raced untouched for a 39-yard touchdown. And after defensive lineman Motie Williams recovered a fumble a short while later, Van Dyne dialed it up for McGuire for a 37-yard scoring strike that put the Eagles in control for good.
"It's just a credit to Sam and Tate," Liberty North coach Greg Jones said. "I said, 'Look son, … you are a made for these moments,' And then he made those huge plays, back-to-back. That's Tate."
Van Dyne put together another strong passing performance, distributing the ball to several targets, and said he was glad to help the Eagles continue their trend of strong second-half play.
"All of our receivers are good," Van Dyne said. "I think all of our matchups are good matchups, so I just try to find who's open and let them make the plays."
Meanwhile, Liberty North's defense rose to the occasion and stymied a Park Hill South defense that racked up 450 yards of total offense, including more than 300 on the ground, during the district semifinals the week before.
Liberty North forced the Panthers into five consecutive punts to open the game, while also coming up with two turnovers. Both takeaways resulted in touchdowns for the Eagles, who kept Park Hill South at arm's reach down the stretch.
"We were really prepared," Liberty North linebacker Kaden Durso said. "We practiced all week, and we were ready to go."
Still, Park Hill South put together a significant rally when Reuben hauled in his second touchdown of the game, followed by a Panthers' kickoff recovery deep into Eagles' territory. But the drive ended in a missed field goal that prevented the Panthers from getting any closer.
"We got caught in some adversity, and the kids kept fighting," Wilmes said. "When you play a great team like Liberty North, you can't make mistakes.
"That was kind of the difference in the game was we made too many mistakes to win."
Liberty running back Cayden Arzola cemented the victory with an 80-yard touchdown late in the game, as the Eagles clinched their second consecutive Class 6 semifinal appearance. Jones said he was glad to see his team rise to the occasion and appeared focused on finding a way to advance to the program's first state title game appearance.
"We've got to find a way to get it done," Jones said. "We've got to find a way to get it done for these kids. We've got to find a way."